Several members of the House Armed Services Committee Seapower and Projection Forces Subcommittee Thursday asked the Biden administration to nominate the next Secretary of the Navy amid the upcoming budget submission and debates.
During the hearing, Rep. Mike Gallagher (R-Wisc.) underscored "it would be great, if the Biden administration's listening, if they moved with a sense of urgency to nominate a Secretary of the Navy. This is our priority force in the priority theater and I think this committee would welcome such a person."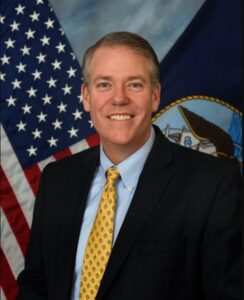 Gallagher added that he thinks there are "many members" of the committee on the Democratic Party "that would make great candidates and others in the private sector. So please, nominate a SecNav as soon as possible."
Subcommittee chairman Rep. Joe Courtney (D-Conn.) agreed with the sentiment and said he told the administration's transition team within the past two weeks they want to see a nominated secretary.
"I couldn't agree more," with Gallagher, Courtney said.
Currently, the Biden administration named Thomas Harker as Acting Secretary of the Navy. Harker assumed his role on January 20 as the Biden administration came into office. Harker succeeded the last confirmed secretary, Kenneth Braithwaite, who resigned on inauguration day with administration turnover, as is standard (Defense Daily, Jan. 21).
Harker previously served as the Assistant Secretary of the Navy for Financial Management and Comptroller since 2018. Last July, the Pentagon announced he would serve as Acting Undersecretary of Defense and Comptroller after Elaine McCusker resigned from that acting position, having held it as acting since summer 2019.
Relatedly, during an Amphibious Warship Industrial Base Coalition event hosted by The Hill, Courtney expanded on the importance of getting a new Navy Secretary sooner rather than later.
"We're waiting for the budget to come over within a few weeks or so. We have a shipbuilding plan that was submitted by the outgoing administration…this new administration, they've got a lot of tough choices to make. I wish we had a Secretary of the Navy in place," Courtney said.
"We haven't had a nomination yet and that's a critical position, particularly, with the strategic needs of our country. Career officials find it very difficult to make sort of those high-level decisions about priority and policy," he continued.
The chairman added that he thinks his subcommittee will have to fill the vacuum in this budget cycle.
"I'm very confident of that. Congressman Wittman and I work together well, we've both been on the committee for quite a while now and we've got great professional staff. But again, we're really anxiously looking for the day when we have a SecNav in the saddle to sort of help with the highly competitive environment that is always in the budget space."
Courtney said he expects the administration to send over its budget request for FY '22 around the end of April or beginning of May "and its going to be a very compressed schedule."
Courtney noted the importance of a confirmed secretary amid trying to rebalance the budgetary split among the services.
"I think we have to have a kind of heart-to-heart conversation on the Armed Services Committee and as a nation really about just the traditional pie chart of the major services getting one third, one third, one third" in the budget.
"The fact is, in my opinion, the ground force component of our military is just, its mission right now is just not even close to what's happening with the heel-to-toe deployments of our Navy and Air Force. And frankly, the tragedy of the collisions that took place a number of years ago was really kind of a symptom of the fact that deployments and the tempo was accelerating in a way that our readiness system and our training system was really not keeping up," he added.
This echoes statements from Chairman of the Joint Chiefs of Staff Army Gen. Mark Milley from December (Defense Daily, Dec. 4, 2020).
At the time Milley said he "would advocate, and bias going forward, for heavy investment" in sea, air, and space-focused platforms over land-based platforms.
"This is a matter of balancing things," he said then. "It's a very, very difficult exercise. We're going to have to go through it. It's going to be very hard. It's going to be ruthless. There's going to be a lot of bloodletting and a lot of stuff left on the floor. But we're going to have to do that in the coming years, no question about it."
Milley called the U.S. a maritime nation and the defense of it primarily depending on seapower and airpower.