Secretary of the Navy Kenneth Braithwaite resigned his position on Wednesday as the Biden administration was sworn in while Thomas Harker, the Navy's top civilian financial official, succeeds him in an acting role.
Harker has served as the Assistant Secretary of the Navy for financial management and comptroller since 2018. Last July, the Pentagon announced he would serve as Acting Undersecretary of Defense and Comptroller after Elaine McCusker resigned from that acting position, having held it as acting since summer 2019.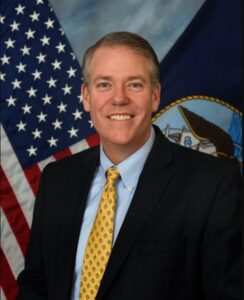 "I leave this office more confident than ever in the readiness and power of our force. We are making the investment in the platforms, capabilities, and facilities to keep the American people and our allies and partners safe for decades to come," Braithwaite said in a video farewell message.
Braithewaite served for well under a year, being confirmed by the Senate last May after serving as the U.S. ambassador to Norway (Defense Daily, May 21, 2020). He capped a tumultuous time in Navy civilian leadership.
Braithewaite succeeded former Acting Navy Secretary Thomas Modly who earlier resigned amid criticism of his removal of the commander of the USS Theodore Roosevelt (CVN-71) (Defense Daily, April 8, 2020).
In turn before Modly, Richard Spencer, the previously Senate-confirmed Navy Secretary, was forced to resign over the handling of Navy SEAL Eddie Gallagher's case (Defense Daily, Nov. 25, 2019).
"For as long as I have the privilege of serving as your Acting Secretary, I will do everything in my power to support your efforts and safety, as well as the safety and well-being of your families. I look forward to serving alongside you," Harker said in a statement upon taking the new role.
The Biden administration has not yet named its nominee to be Secretary of the Navy.