Lockheed Martin [LMT] has a strategy to scale up laser weapon production as the Defense Department increases demand for the technology, according to a company official.
"The ability to ramp up is actually very, very good…Across Lockheed Martin we've looked at the critical elements of laser production and what it would take for us, whether it's through our supply chain or through our internal manufacturing, what it would take to scale up to different levels of production and so we have a gated investment strategy," Jon Rambeau, vice president and general manager at Lockheed Martin Rotary and Mission Systems' integrated warfare systems and sensors line of business, told Defense Daily during a Jan. 15 interview.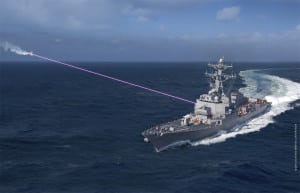 Last week, the company revealed it delivered the initial High Energy Laser and Integrated Optical-dazzler with Surveillance (HELIOS) production unit to the Navy for additional testing before it is set to be installed on an Arleigh Burke-class destroyer later this year (Defense Daily, Jan. 11).
HELIOS is a 100-kilowatt (kW)-range weapon that was designed to be 60 kW, but Lockheed Martin officials confirm it can produce more power depending on using different modules in the same footprint.
Rambeau said HELIOS was "designed for 60–we believe that the current configuration can go higher than that, upper bound…probably in the 100, 120 range."
He also noted the company is also developing a 300 kW-class laser weapon as part of the Army's High Energy Laser-Indirect Fire Protection Capability (HEL-IFPC) program.
In 2019, the Army Rapid Capabilities and Critical Technologies Office announced a program to build a 100-kW laser to be integrated on a family of Medium Tactical Vehicle trucks was adjusted to increase up to a 250 to 300 kW capability. Lockheed Martin is part of a team working to develop and test such a laser technology demonstrator (Defense Daily, Aug. 1, 2019).
"As we start to see continued demand from our customers coming in, we'll turn on successive levels of investment to scale up our manufacturing capabilities," Rambeau said.
He noted there are three critical components to laser weapons: the laser itself, components to combing the beams into one and getting them aligned, and beam direction to focus it on a particular target.
"So there are three areas that we're really focused on with our company and making sure that we're investing to be able to have manufacturing capability for the future."
"We do have a 10-year plan, but obviously that's going to be gated, based on the extent to which we actually see our customers come forward with orders. We think we want to stay just a little bit ahead of customer demand, but not too far out in front," he continued.
Rambeau said the form factor in the HEL-IFPC laser is not all that different from HELIOS, but they have different applications.
He could not say how much the HELIOS footprint would change if the Navy was interested n upgrading to that 300-kW range capability, but Rambeau said external systems are part of what drives the footprint, and a ship's ready supply of power and cooling is helpful.
Overall, Rambeau said the company is interested in any interest to add higher power lasers to future naval vessels like the future surface combatant, DDG(X).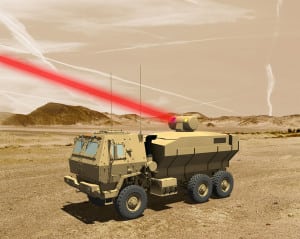 "We're continuing to invest in capability to deliver certainly 300 kW…and we're looking at what it would take to scale beyond that, up into 500 and beyond."
During the virtual Surface Navy Association symposium last week, top Navy officials said DDG(X) is being designed to eventually field high-powered laser weapons to deepen magazines and better defend against attacks (Defense Daily, Jan. 13).
Rambeau underscored while the company believes "there's…not a lot of invention required to go to the higher power levels, but what I will tell you is at every successive higher level of power there's always some discovery, always some engineering we've got to work through, the scaling of the capability."
Rambeau also said while there is general interest in laser weapons internationally, he would not point to any one country and Lockheed Martin will have to work closely with the U.S. government in export policy to allow international sales on these kinds of weapons.
"Right now there's not a lot of approval to export higher powered laser weapon at this point in time, but certainly that will be government to government conversations that will have to happen first and then if the U.S. government supports it, obviously we'll follow their lead."
However, for now, the company is more focused on domestic customers at the Army and Navy.