Top Navy officials this week explained the next class of destroyers, called DDG(X), will have the energy and space capabilities to field lasers, hypersonic missiles, sophisticated radars, and future upgrades.
"This platform will provide additional space, weight, power and cooling required for relevancy. DDG(X) will give us considerable upgrades from the addition of larger, more dynamic missiles that will hold targets at risk in longer range," Vice Adm. James Kilby, Deputy Chief of Naval Operations for Warfighting Requirements and Capabilities, N9, said Monday during the virtual Surface Navy Association symposium.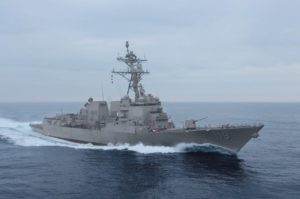 Kilby argued these capabilities fit in the Chief of Naval Operations Adm. Mike Gilday's new Navigation Plan focus of sea control in the future fleet.
"It will give us the ability to operate confidently and in increasingly contested environments using weapon systems such as high-powered lasers that vastly deepen our magazines and allow us to deal with higher volume attacks."
Gilday announced on Monday he approved redesignating the future large surface combatant as DDG(X) and it will be designed to have the space, weight, power and cooling (SWaP-C) to incorporate future capabilities (Defense Daily, Jan. 12).
Rear Adm. Paul Schlise, director of Surface Warfare (N96), agreed on the DDG(X) capability plans while noting the Arleigh Burke-class (DDG-51) destroyers have been a "phenomenal success" and the combat system in the upcoming Flight III variant "will be the foundation of DDG(X),"  he said at the symposium Tuesday.
Schlise reiterated the DDG-51 has reached the limits of upgrading with new capabilities after Flight III is completed, with the ship having been in production for over 40 years and upgrading for 30.
"We've done about all we can do with this ship and we've maxed out the… SWaP-C margins, and it's time to reset to a new large surface combatant hull."
He said as adversaries like China push farther from their shores, "we need a ship that can generate enough power to drive more sophisticated radars, electronic warfare systems and directed energy weapons."
Given the kinds of weapons an adversary with an industrial economy can field, "we must realize the missile game is not to our advantage. We look to directed energy systems to deepen our magazines, enable us to fight our way into the fight."
Moreover, Schlise said large hypersonic missiles will "remind those adversaries that no target is out of range, at least not for long."
He said the key objective is getting an enduring DDG(X) hull form with the flexibility and service life allowance margins to incorporate future upgrades as well as more efficient power and propulsion systems, comparing it to the path from DDG-51 Flight I to Flight III.
Schlise sought to allay concerns from Congress that the service may move too quickly without enough technology maturation and testing.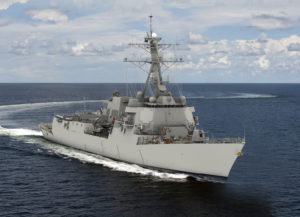 He argued the Navy has "reduced the foundational risks that have bitten us in the past by dictating use of the Flight III combat system elements, non-developmental technology in the engineering plant, and separating hull design and development from that of weapon and sensor system maturation."
He noted the Navy is "fully aligned with Congress" in conducting land-based testing on components like the power and propulsion system to reduce risk before ship activation."
The Senate Appropriations Committee's explanatory statement released with the FY '21 defense appropriations bill last November heavily criticized the Navy's funding and strategy for the next destroyer, previously referred to as the Large Surface Combatant (LSC), and limited funding for its development (Defense Daily, Nov. 13, 2020).
Similarly, Senate authorizers decreased funding in LSC work, arguing the program lacks clarity on LSC capability requirements to start preliminary design work (Defense Daily, June 26, 2020).
In response to a question, Schlise noted while the Zumwalt-class (DDG-1000) destroyer is not being considered as a hull option, the DDG(X) will incorporate its integrated power system to power weapons and sensors in the future.
"I think the integrated power system is the key to the realm here…there's a lot of promise in some of those systems, but that integrated power system is the key to incorporating those future systems that we're looking at, think are going to be part of that class of ship."
In October, the CNO said DDG(X) will likely be smaller than the three-vessel Zumwalt-class "but packing some power," (Defense Daily, Oct. 13, 2020).
The DDG-1000 destroyers are 610 feet long with a displacement of almost 16,000 tons. They are built by General Dynamics' Bath Iron Works [GD]