The Chief of Naval Operations (CNO) this week said the Navy is learning from its mistakes in the past in how to build new ships while arguing for divesting from older ships.
The Navy must deliver naval power properly and has no time to waste in fielding new capabilities because "our actions in this decade, I believe, will likely set the maritime balance of power for the rest of the century," CNO Adm. Mike Gilday said during the virtual Surface Navy Association symposium on Monday.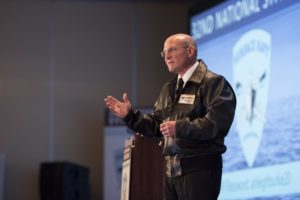 On Monday Gilday also released his personal Navigation Plan, which "outlines how we will grow our naval power to control the seas and project power across all domains and into the future. We will do it by focusing our efforts across four key area – readiness, capabilities, capacity, and our sailors."
The report said it charts how to execute the recent Tri-Service Maritime Strategy and it supersedes the previous Design 2.0 and informs the CNO's annual guidance for the Program Objective memorandum (POM) and internal implementation framework. The Pentagon released the Tri-Service Maritime Strategy in December (Defense Daily, Dec. 17).
This plan also comes a month after the Navy released the long-delayed 30-year shipbuilding plan and Future Naval Force Structure document, which aim to outline naval modernization over the following decades (Defense Daily, Dec. 10).
Gilday emphasized the need to get delays and cost overruns under control because "I don't mean to be dramatic, but I feel like if the Navy loses its head, if we go off course and we take our eyes off those things we need to focus on, I think we may not be able to recover in this century."
"Based on the trajectory that the Chinese are on right now, and again, I don't mean to be dramatic, I just sense that this is not a decade that we can afford to lose ground," he continued.
Gilday pointed to the new Constellation-class frigate with the right shipbuilding approach. The competition required a proven parent design rather than a new ship hull designed from scratch.
He said decoupling new technology development from building ships, as done in the frigate, is "critical to making the future fleet a reality."
Compared to the long-delayed and heavily criticized Littoral Combat Ships, Gilday said the frigate program designed program of record systems in the baseline and provided margins to insert future technology when it is tested and ready. The lead frigate is expected to join the fleet by the summer of 2026.
Gilday said this approach directs the Navy to move from further upgrading DDG-51 destroyers and instead developing a follow-on DDG destroyer.
After 30 years upgrades "there is simply not enough space in the Arleigh Burke-class to accommodate future warfighting capabilities that we need."
To that end, the CNO said he recently approved redesignating this DDG Next ship as DDG(X).
"Consistent with its future mission. DDG(X) will have the space, weight and power to incorporate future capabilities that pack a punch over its entire lifetime."
Gilday argued in the future the shipyard-Navy-industry team will have to work together closely to deliver platforms like the DDG(X) and new frigate on time.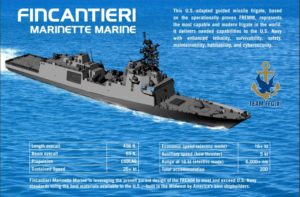 "Those have to be our SpaceX projects in this decade. We have to get them right, we cannot afford to have delays, we cannot afford to have big mistakes, we can't afford to have cost overruns, we really have to deliver those on time, on budget and with the type of capabilities that work the first time."
"So that's going to take a partnership as well. Design-right your build. And so I ask industry to really roll their sleeves and help us there," Gilday continued.
Gilday and his navigation plan also argues that "to remain ahead of our competitors, we will divest ourselves of legacy capabilities that no longer bring sufficient lethality to the fight."
This includes the first four experimental LCS hulls, legacy cruisers, and legacy Dock Landing Ships.
Last year, the CNO previously argued retiring the first LCSs would save the service $2 billion in upgrading them to the level of the rest of the LCS fleet (Defense Daily, March 9, 2020).
The Navy's fiscal year 2021 budget request planned to decommission the first four LCSs, noting they serve only as training and test assets currently.(Defense Daily, Feb. 10, 2020).
However, Congress pushed back against this move with House authorizers inserting measures to the defense bill to restrict the Navy from retiring the third and fourth Littoral Combat Ships until the Secretary of the Navy submits a certification that each mission module designed for the LCS has completed all operational tests (Defense Daily, June 23, 2020).
Similarly, House appropriators prohibited using funds to decommission LCSs and directed a report on what upgrades would be needed for the ships to effectively conduct operations (Defense Daily, July 10, 2020).
During his talk, Gilday also said divestment includes "transferring non-core Navy missions like Aegis Ashore to our ground forces. Our sailors have put years of exceptional service in these platforms, but pivoting to the future requires tough choices."
The Navy currently operates one Aegis Ashore facility in Romania with another under construction and delayed in Poland. Japan planned to buy two for itself but canceled them last year.
Gilday argued this plan "reflects what I really believe. Even if a budget-constrained environment, prioritization will be important. And we'll make trades and decide where we're going to fine-tune investments but we're going to fine-tune them in accordance with the navigation plan."
"I go back to thing one, which was control of the sea and power projection. I've got to buy stuff and make investments and develop concepts that are going to put is in a better position with respect to those two mission areas."