The Trump administration's fiscal year (FY) 2021 budget request adds only eight battle force ships, two fewer than previously planned, while also planning to retire four Littoral Combat Ships (LCSs).
The Navy is requesting $207.1 billion overall, $2.9 billion less than in FY 2020. Ship procurement is set at $20 billion, down from the $24 billion and four more ships the Navy requested and Congress allocated in its FY '20 defense budget bill (Defense Daily, Dec. 17, 2019).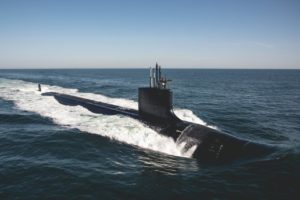 The Navy said its procurement request decrease from FY '20 will help fund operations and maintenance, military personnel, and research and development.
Navy budget documents underscored the service still sees the Columbia-class submarine as "the Navy's highest shipbuilding priority" even as it lowers other previously planned shipbuilding procurement for FY '21.
As the force transitions from advanced procurement to directly buying its first new Columbia-class ballistic missile submarine (SSBN) for $4 billion in FY '21, the Navy said this will provide the first three years of incremental full funding on the first vessel. When adding detail design effort, continuous missile tube production, and advance procurement for the second ship the cost reaches over $4.4 billion.
The Navy also plans to buy one Virginia-class attack submarine (SSN) for $4.2 billion plus related advance procurement for future vessels; two DDG-51 Flight III Arleigh Burke-class destroyers for $3 billion; one FFG(X) new frigate for $1.1 billion; one Flight II San Antonio– ­class amphibious transport dock (LPD) for $1.2 billion; ad two Navajo-class T-ATS towing, salvage, and rescue ships for $168 million.
Compared to the FY '20 30-Year Shipbuilding Plan, the Navy is requesting only one frigate instead of two, one SSN instead of two, no John Lewis-class T-AO 205 oilers instead of one, and two T-ATS towing and salvage ships instead of one.
Last year's budget documents requested three Virginia SSNs in FY '20 before Congress reduced that to two while the Navy planned to procure two submarines annually through FY '24. Then, in December, the Navy awarded prime contractor General Dynamics' [GD] Electric Boat a nine-submarine Block V $22.2 billion multiyear contract with an option for a 10th. Block V submarines are funded by FY 2019 – 2023 accounts (Defense Daily, Dec. 2, 2019).
The service plans to buy five Landing Craft Utility (LCU)-1700s for $87 million and two more Large Unmanned Surface Vessels (LUSVs) for $200 million, both categories not counting with the eight requested main battle force ships.
Chairman of the House Armed Services Subcommittee on Seapower and Projection Forces Joe Courtney (D- Conn.), said this budget is not one needed to reach 355 ships and is "dead on arrival."
"This weak, pathetic request for eight ships – of which two are tugboats – is not only fewer ships than 2020, but fewer ships than the Navy told us last year it planned for 2021," Courtney said in a statement.
He underscored the request is almost 17 percent lower than current funding levels and said the six combat vessels within eight ships requested is the lowest level in a decade.
"It's impossible to square this plan with the Administration's National Defense Strategy and its claim that it supports a 355-ship fleet."
Courtney was particularly irked by reported last-minute maneuvering with the Office of Management and Budget (OMB) that caused Navy shipbuilding budget to be lowered to pay for other projects.
"Unfortunately, the Defense Department leadership was unable to withstand the pressure to use the shipbuilding account as a piggy bank, even as Navy leaders have been outspoken in their concern about getting the support they need to fund our shipbuilding priorities… Included in the late-breaking reduction in shipbuilding is the elimination of one Virginia class submarine, which is particularly at odds with our national security priorities," Courtney added.
The Navy also plans to decommission the first four LCSs, which currently serve as training vehicles and test assets, saving $136 million in FY '21 and $1.2 billion over the five-year long Future Years Defense Program (FYDP). Budget documents said while LCSs 1-4 helped develop the operational concepts for current LCS deployment, "cancelling their modernization allows us to prioritize lethality and survivability where we need it."
Documents said the money can be reallocated to other LCSs with mission packages that will fill the role of surface warfare, anti-submarine warfare, and mine countermeasures capabilities going forward. However, the Navy noted "these could be reversed in subsequent FYDPs depending on changes in strategy."
Along these savings, the service also plans to decommission four Ticonderoga-class Aegis cruisers early–the USS Monterey (CG-61), Shiloh (CG-67), Vella Gulf (CG-72), and Port Royal (CG-73)–to divest least capable platforms and save $610 million over the FYDP.
"In this case, these cruisers have not been through the CG Modernization program and, as Ballistic Missile Defense ships, these ships are our least capable Aegis baseline in the high end fight," Navy documents said. It noted these ships decommission at an average of over 30 years of service life.
The Navy underscored these ships are not within the 2-4-6 modernization plan and would not be candidates to serve as Air Defense Commander in a carrier strike group.
"The Navy is committed to maintaining these cruisers for that vital role. But we have other more capable BMD platforms, including all of our new destroyers."
The 2-4-6 system that allows the service to work on up to two cruisers per year for no more than four years and with no more than six cruisers undergoing modernization concurrently.
The Navy also plans to save up to $844 million over the FYDP by accelerating the decommissioning of the Whidbey Island-class dock landing ships USS Germantown (LSD-42), Fort McHenry (LSD-43), and Gunston Hall (LSD-44). The Navy argued all three ships are over 30 years old and their replacement, the LPD Flight II, will start delivery in FY '25 with more capable systems and CMV-22 capability.