Navy leaders on Thursday admitted at a hearing that the FY 2021 shipbuilding budget request numbers slows the service's goal of reaching 355 ships.
The Navy's FY '21 shipbuilding request seeks eight battle force ships for $20 billion, down four ships and from $24 billion from the previous year. It particularly includes only one Virginia-class attack submarine, despite previous plans to buy two this year. Last year, the Navy requested three attack submarines before Congress reduced that to two concurrent with service plans to buy two annually through FY '24 (Defense Daily, Feb. 10).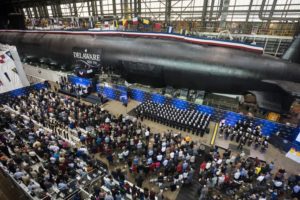 "In the end, this budget submission is a manifestation of the hard choices we had to make this year…While this budget does slow our trajectory to a force of 355 ships or more, it does not arrest it," Acting Secretary of the Navy Thomas Modly told the House Armed Services Seapower Subcommittee during a Feb. 27 hearing.
"You have my personal assurance that we are still deeply committed to building that larger, more capable, more distributed naval force within what I consider a strategically relevant timeframe of no more than 10 years. I look forward to working with this committee and the entire Congress in the coming months as we develop realistic plans to do so," he added.
Chief of Naval Operations Adm. Michael Gilday also admitted while "the size of the fleet is growing, it's just not growing at the pace that some would prefer. And to meet those priorities we've had to make some hard choices inside the Navy and that includes decommissioning some legacy platforms that don't bring lethality to the fight."
The FY '21 budget request plans to decommission the first four Littoral Combat Ships to save $1.2 billion over the Future Years Defense Program (FYDP), decommission four Ticonderoga-class Aegis cruisers early to save $610 million over the FYDP, and accelerate the decommissioning of three Whibdey Island-class dock landing docks to save another $844 million over the FYDP.
On Wednesday, House Armed Services Committee (HASC) members reprimanded Secretary of Defense Mark Esper over the shipbuilding decrease, particularly HASC Seapower Subcommittee Chairman Joe Courtney (D-Conn.) (Defense Daily, Feb. 26).
"I have been on the seapower committee for 14 years," Courtney said. "You have to go back to the height of the surge [to the Middle East],when the Navy shipbuilding was a bill payer … to see such an anemic shipbuilding request from the administration here today."
Courtney also called the request a "punch in the gut" to shipyard workers investing in experience to build the ships, the supply chain, and combatant commanders lobbying Congress for more ships.
On Thursday, Modly underscored he is seeking to reach a 355-plus ship force within 10 years that will be addressed in the integrated Force Structure Assessment, which is expected to be released within months.
However, Modly said that shipbuilding funding taken out for a reported higher National Nuclear Security Administration funding level and for reprogramming going to the border wall makes it harder to reach 355 ships.
"To be frank, it's not helpful, because it takes a ship out of a plan that we're driving toward. It particularly is harmful in the sense that it takes a ship out of a category of ship for which we're going to have a hard time getting to anyway. We feel like we need to have at least 66 attack submarines. Even on the 10-year trajectory, based on industrial base capacity, we think we can get to about 49 or 50."
"So it takes out one. If we can get to 48 instead of 49, that impacts that number…so, of course, any ship that comes out of the process in any given year is going to impact our ability to get there as quickly as I'd like to," Modly continued.
Earlier this month, the department issued a reprogramming request identifying $3.8 billion in FY 2020 equipment spending to help fund the Trump administration's border wall project. That includes $650 million for the LHA-9 America-class amphibious assault ship and $261 million for the Expeditionary Fast Transport ship (Defense Daily, Feb. 13).
Courtney initially responded to the budget request by saying the administration used the shipbuilding account as a "piggy bank" and "included in the late-breaking reduction in shipbuilding is the elimination of one Virginia-class submarine, which is particularly at odds with our national security priorities."
When asked if the administration consulted them before these cuts, Modly said, "we knew that they were looking at a variety of different options and then, at the end, those options were presented to us."
Both Gilday and Marine Commandant Gen. David Berger affirmed they were not consulted before the final budget reallocation decision was made.