The fiscal year 2020 defense appropriations bill adds amphibious vessels to the Trump administration's request for new Navy ships but took out the requested third attack submarine.
The Navy requested $22.2 billion for building 12 new ships: one Ford-class aircraft carrier; three Virginia-class attack submarines (two with the Virginia Payload Module); three Arleigh Burke-class DDG-51 destroyers; one FFG(X) future frigate; two John Lewis-class oilers; and two T-ATS towing, salvage, and rescue ships.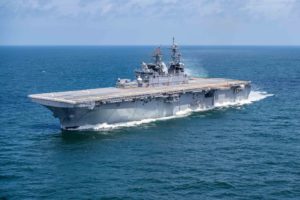 However, the final appropriations bill calls for $24 billionsto procure the carrier (CVN-81), only two Virginia-class submarines, three DDG-51 destroyers, the lead frigate vessel, two oilers, two T-ATS ships, but then adds one amphibious assault ship (LHA), an expeditionary fast transport ship (T-EPF), a San Antonio-class amphibious transport dock (LPD), and a Ship to Shore Connector (SSC).
The bill transferred $1.28 billion from the FY 2020 request from the CVN-80 account to CVN-81 as the Navy is buying both at once to save money in a two-carrier purchase.
Since the bill funds only two Virginia-class submarines rather than the three requested, it funds the submarines at $5.36 billion rather than 7.2 billion. Appropriations bill documents explain $1.4 billion is subtracted because SSN-812 is "early to need" while $1.4 billion is shifted from SSN-812 funds to SSN-804 and 805 for "full funding with Virginia Payload Modules per revised multi-year procurement contract cost estimate."
A further $400 million is taken from the attack submarine procurement and divided into use as Virginia-class advance procurement with SSN-812 as a 10th multi-year procurement contract option ship only and adds to design risk reduction and future capability development funding lines.
This comes after the Navy recently awarded General Dynamics Electric Boat [GD] a $22.2 billion award for nine Block V Virginia-class submarines with an option for a 10th (Defense Daily, Dec. 2).
The three DDG-51 destroyers are funded at a similar level, but advance procurement for future destroyers is increased from $224 million to $744 million. Of that amount, $390 million is listed as a program increase for long-lead time material for FY 2021 DDG-51 Flight III ships with another $130 million added for the surface combatant supplier base.
The appropriations bill adds $524 million to the Navy's request to procure a San Antonio-class LPD Flight II vessel. In March, Navy officials said they were delaying buying more amphibious vessels in the FY '20 request in favor of focusing on more submarines and other vessels (Defense Daily, March 14).
However, Sen. Roger Wicker (R-Miss.) pushed for the Navy to get authority to start advance procurement and incremental funding for the unnamed America-class amphibious assault ship LHA-9 and the second San Antonio-class Flight II Landing platform Dock LPD-31 after seeing they were not funded in the budget request.
Assistant Secretary of the Navy for Research, Development and Acquisition James Geurts said if Congress gave the Navy the authority, it could start moving on long-lead material and was hoping to move up LHA-9 procurement in the FY 2021 budget. Geurts said LHA-9 was delayed to 2024 on the basis of affordability despite a seven year break in LHA construction (Defense Daily, March 29).
Now the bill directly provides funds for LHA-9 at a cost of $650 million. The LPD-17 Flight II vessel is funded via moving $247 million in requested advance procurement funds to procurement then adding a further $277 million to fund it outright.
The extra Expeditionary Fast Transport ship cost another $261 million over the request while the additional Ship to Shore Connector cost another $65 million.
The bill also adds $49 million to completion of prior-year shipbuilding programs for the EPF-14 Expeditionary Medical Transport (EMT) conversion. This is funding the Navy requested in March in its FY 2020 unfunded priorities list. This will convert EPF-14 into an EMT vessel to provide ambulance-type medical services (Defense Daily, March 27).