Steven Walker, the director of DARPA, announced his resignation Tuesday and his intent to move to a private sector role in the defense industry.
Walker will step down from his role on Jan. 10, 2020 a DARPA spokesperson confirmed to Defense Daily
, and Dr. Peter Highnam, the deputy director, will then take over in an acting capacity.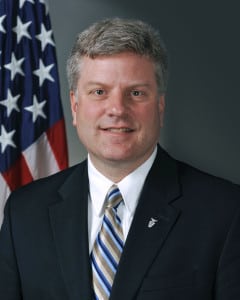 Walker, the 21st leader of the Pentagon's emerging technology development office, has served as the director since 2017. He was previously the deputy director from October 2012 through December 2016.
"During his tenure as DARPA's director, he oversaw the development and fielding of the Long-Range Anti-Ship Missile, which was accomplished in half the time of a normal development program," Jared Adams, DARPA spokesperson, told Defense Daily. "Walker also reinvigorated the agency's hypersonic weapons and space efforts, with major programs in boost-glide and air-breathing missile development and distributed low Earth orbit satellite constellations."
Adams did not disclose the specific company where Walker would be headed or his role in the private sector.
Highnam, who first started with DARPA in 2018, was previously the National Geospatial-Intelligence Agency's director of research and the former director of the Intelligence Advanced Research Projects Activity.