President Trump said Monday afternoon he has fired Secretary of Defense Mark effective immediately.
The president said Christopher C. Miller, director of the National Counterterrorism Center, will serve as the acting secretary of defense.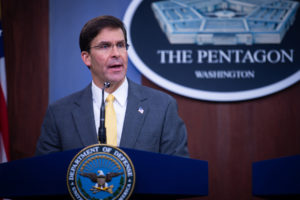 "Chris will do a GREAT job! Mark Esper has been terminated. I would like to thank him for his service," Trump wrote on Twitter.
Last week, press reports said Esper had already drafted a letter of resignation in anticipation of Trump potentially preparing to oust the top Pentagon official in the coming weeks (Defense Daily, Nov. 6).
Esper, the former Army Secretary and top Raytheon [RTN] executive, has served as defense secretary since July 2019 and has spearheaded a defense-wide review process to find savings from low priorities that could be applied toward modernization initiatives.
Earlier this year, Esper said the department found $7 billion so far to shift toward higher priority efforts while reviewing $99 billion in appropriations across the department's Fourth Estate agencies, resulting in $5 billion in potential savings and $2 billion that could be transferred to service departments (Defense Daily, Feb. 6).
More recently, Esper has taken the lead in rolling out the Navy's new future fleet plan, which calls for over 500 manned and unmanned ships by 2045 (Defense Daily, Oct. 6).
However, Esper has found himself at odds with the administration over his public rebuke on the potential invoking of the Insurrection Act in the wake of nation-wide protests this summer and support for such initiatives as the renaming of bases named after Confederate leaders.
Miller has led the National Counterterrorism Center since August, and has previously served as deputy assistant secretary of defense for special operations and combating terrorism.