Lockheed Martin [LMT] has received a $339.3 million deal to work on the Army's new mid-range missile capability by integrating Navy SM-6 and Tomahawk missiles with launchers and a battery operations center to deliver a new ground-based weapon prototype.
Army officials told
Defense Daily the service is aiming to begin fielding the new Mid-Range Capability (MRC) for soldier training in the first quarter of fiscal year 2023, before delivering an operational prototype battery in late FY '23.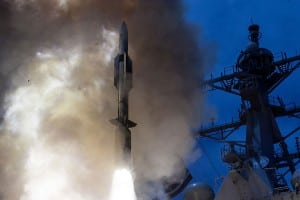 "Adapting existing systems as much as possible will allow us to move faster than traditional acquisition methods to get this capability into the hands of Soldiers in support of the National Defense Strategy," Lt. Gen. Neil Thurgood, leader of the Army's Rapid Capabilities and Critical Technologies Office (RCCTO), said in a statement.
The Army has tasked Lockheed Martin with integrating the Raytheon [RTN]-built Navy missiles for the complete MRC prototype that "will be designed to hit targets in the range between the [future] Precision Strike Missile (PrSM) and the Long Range Hypersonic Weapon," according to the service.
"We are pleased to partner with the U.S. Army to design, build, integrate, test, evaluate, document, deliver and support the Mid-Range Capability (MRC) prototype battery capability. We look forward to rapidly delivering this capability and contributing to the modernization priority of Long-Range Precision Fires for the U.S. Army," Lisa Miner, a Lockheed Martin spokeswoman, told Defense Daily.
The Army's interest in a mid-range missile for its future long range fires portfolio is a result of a recent strategic fires study that identified the need to address such a capability (Defense Daily, Sept. 2).
Brig. Gen. John Rafferty, director of the Army's Long Range Precision Fires Cross Functional Team, said recently MRC could be used for ranges of 500 to 1,500 kilometers (Defense Daily, Sept. 29).
"Following a broad review of joint service technologies potentially applicable to MRC, the Army has selected variants of the Navy SM-6 and Tomahawk missiles to be part of the initial prototype," the Army wrote in a statement. "The Army will leverage Navy contract vehicles for missile procurement in support of the Army integration [Other Transaction Authority] agreement [with Lockheed Martin]."
Lockheed Martin is currently building the PrSM missile for the Army, which is the replacement for the legacy ATACMS missile and is set to reach ranges of at least 499 kilometers.