The Defense Department on Thursday released its new Tri-Service Maritime Strategy among the Navy, Marine Corps, and Coast Guard, with a heavy emphasis on the long-term threat from China.
The strategy, called Advantage At Sea, cites the "growing naval power" of China and the "increasingly aggressive behavior" of Russia as pressure to develop a new long-term strategy. It notes U.S. naval forces interact with China and Russia daily and see firsthand the increasing aggressiveness and sophistication of both countries' militaries.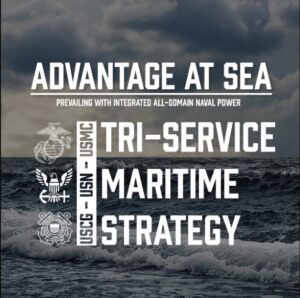 Between the two, the strategy says "the People's Republic of China represents the most pressing, long-term strategic impact."
The new strategy argues the three services must work together to maintain a unified effort to compete with, deter, and potentially defeat adversaries while also modernizing and integrating the naval force.
"We are at an inflection point," the chiefs of the three services say in a foreword to the strategy. "Our actions in this decade will shape the maritime balance of power for the rest of this century."
The 36-page guidance document underscores China is developing the world's largest missile force and its naval battle force has more than tripled in two decades to over 350 vessels today. DoD projects the People's Liberation Army Navy battle force will reach upward of 450 ships by 2030. Likewise, the report says Russia is prioritizing nuclear and advanced missile systems, attack and guided missile submarines, bombers, missile frigates, fighter jets, air-to-air missiles, and air defense systems.
If these trends are unchecked, the U.S. naval service would be unprepared to ensure advantage at sea while protecting national interests within the decade. To counter these threats, the services expect to use joint long-range precision fires to hold high-value targets at risk, allowing U.S. and allied forces to destroy an adversary's fleet at a high operational tempo in combat, the report says.
During a virtual media roundtable Thursday afternoon, Rear Adm. James Bynum, director for Warfare Development in the Office of the Chief of Naval Operations, said that even with a pending change in presidential administrations, the new strategy confronts the world as it is amid renewed great power competition that presents "comprehensive" threats.
The strategy employs the operational concepts the services have been moving toward for years. The Navy will reach a fleet optimized for Distributed Maritime Operations with many small and unmanned ships spread across the Pacific region while larger ships like aircraft carriers, amphibious ships and destroyers use longer range weapons. The Marine Corps would be optimized for littoral operations in a contested environment and use its Expeditionary Advance Base Operation concepts.
The Coast Guard works with partner countries in a wide range of areas below armed conflict such as law enforcement, fisheries protection, marine safety and maritime security, which "makes it the preferred maritime security partner for many nations vulnerable to coercion," the tri-service strategy says.
The document envisions U.S. naval forces would destroy adversary forces primarily via attack submarines, fifth-generation aircraft, naval expeditionary forces, maritime raids, and unmanned vehicles. This includes "low-footprint and low-signature Marine Corps elements operating from the sea to the shore" using long-range precision fires.
In this scenario, "maneuverable strike forces" will launch overpowering air and missile attacks while long-range systems and hypersonic weapons focus on targets ashore. These strike forces consist of multiple carrier strike groups, surface action groups, and expeditionary strike groups, all using unmanned vehicles. The Coast Guard would contribute by ensuring a secure and efficient marine transportation system.
Under this scenario, while the various services' aircraft sustain dominance over the skies, "bombers and fighters will mass overwhelming anti-surface and land-attack fires. Marine Corps expeditionary forces ashore will support domain awareness, provide forward arming and refueling points, and deny adversaries the use of key maritime terrain. Rapidly deployable Coast Guard cutters, Port Security Units, and Advanced Interdiction Teams will provide specialized capabilities, augmenting operation in theater. Joint long-range precision fires will hold high-value adversary targets at risk, allowing U.S. and allied forces to focus on destroying the adversary's fleet."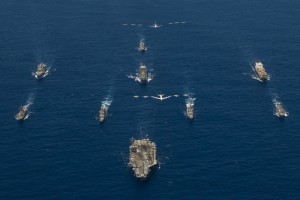 The strategy takes the assumptions of the new force structure assessment and 30-year shipbuilding plan looking to increase ship counts while maintain stable budgets.
"Cost-effective platforms and manned-unmanned teaming will increase the capacity of the fleet and expand our ability to distribute our forces. We will leverage the lethality of submarines in sea denial and focus on enhancing long-range fires, including aircraft and missile ranges, and manned-unmanned teaming in all domains."
The services say their priorities guiding development of the future integrated naval force include capabilities that apply across the competition continuum rather than being narrowly focused, emphasize sea control over other naval missions, use more distributable capabilities, fewer exquisite platforms, modernization over legacy sustainment, and invest in training and education.
Specifically, the Navy will prioritize lethality, capacity, readiness, and expeditionary logistics; the Marine Corps focusing on modernization over force structure size; and the Coast Guard prioritizing readiness, capacity, and future capability like command, control, communications, computers, combat systems, intelligence, surveillance and reconnaissance as well as cyber security and modernizing the cutter fleet.
The services expect to integrate into one naval force via training and exercises; accelerate delivery of the next-generation Naval Operational Architecture and other networks; conduct exercises and experiments with different combinations of current forces to improve effectiveness; conduct analysis and wargames with a master Naval Analytic Master Plan aligning all the services' studies and exercises; increase coordination on naval service investment and innovation efforts; and use all of the above to inform a continuous force design process.
In October, the Chief of Naval Operations directed Commander of Naval Information Warfare Systems Command Rear Adm. Douglas Small to help build the Naval Operational Architecture in Project Overmatch (Defense Daily, Oct. 15).
The networks largely align with where the Navy has been pushing for recently. The operational architecture includes the "Naval Tactical Grid, battle management aids, data structures and infrastructure that underpin distributed operations. This network will be fully interoperable with Joint All-Domain Command and Controls systems."
The strategy outlines planned naval investments, aligning with the recent 30-year shipbuilding plan and the direction the forces have been moving towards for years.
The naval services plan to continue to invest in next-generation aircraft, defensive missile systems, sensors like the Marine Ground/Air Task-Oriented Radar, Navy Air and Missile Defense Radar, and "emerging technologies" like directed energy weapons.
The report also says how Coast Guard modernization will contribute to this effort.
"The Coast Guard's fleet modernization, including the acquisition of the Offshore Patrol Cutter, Polar Security Cutter, Arctic Security Cutter, and Waterways Commerce cutter, will provide the capacity and capabilities necessary to facilitate advancing maritime governance and protecting U.S. maritime sovereignty."