The Chief of Naval Operations (CNO) directed the commander of Naval Information Warfare Systems Command with leading a new project to create a new naval network to facilitate connecting future ships, including unmanned vessels.
In a memo dated Oct. 1, CNO Adm. Michael Gilday appointed Rear Adm. Douglas Small with building the proper Naval Operational Architecture to connect and enable the future forces as quickly as they need to, called Project Overmatch.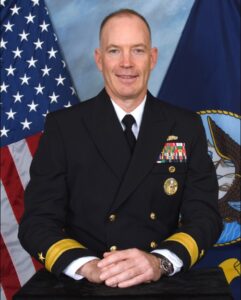 "The Navy's ability to establish and sustain sea control in the future is at risk. I am confident that closing this risk is dependent on enhancing Distributed Maritime Operations through a teamed manning/unmanned force that exploits Artificial Intelligence and Machine Learning," Gilday wrote.
However, he warned he is not confident the Navy is currently building the operational architecture needed for the future force fast enough.
Gilday said this is the Navy's highest developmental priority after the Columbia-class ballistic missile submarine program.
"Your goal is to enable a Navy that swarms at sea, delivering synchronized lethal and non-lethal effects from near-and-far, every axis, and every domain," Gilday wrote.
This specifically includes developing the networks, infrastructure, data architecture, tools, and analytics to support the operational and developmental environment "that will enable out sustained maritime dominance," Gilday continued.
The CNO directed Small to provide an initial plan within 60 days and updates every 90 days thereafter.
"Show me your recommended end-state, how we will measure our progress, and what you need to achieve our shared objective, both talent and resources."
Gilday said the Vice CNO and Assistant Secretary of the Navy for Research, Development and Acquisition James Geurts will serve as his "mentors and your first choice for barrier removal."
Gilday elaborated on the network issue on Tuesday during a virtual Defense One State of the Navy event.
He argued part of what is needed to deliver naval power into the future "is digitization and a network at the tactical edge that's going to allow us to have sensors plug and play in a way that doesn't currently exist, in a way that we can move data around in a way that doesn't currently exist."
As the Navy seeks to move to a hybrid fleet with unmanned systems, "our requirement for bandwidth and to move data is going to exponentially increase and we know that the networks that we have right now and the infrastructure that we have right now is insufficient to meet the requirement that comes with unmanned," Gilday added.
The CNO underscored the new Naval Operational Architecture that Project Overmatch aims to make will plug into the Joint Force's Joint All Domain Command and Control (JADC2), "so it will actually be part of the joint network that is right now the Joint Chiefs number one priority and truly, in terms of warfighting capability, is something that we absolutely have to have."
JADC2 seeks to connect sensors form all the military services into a single network to facilitate multi-domain operations.
During the event Gilday said if this conversation was happening a year or two ago the timeline for the architecture might be by 2033 or 2035. However, as the project is starting now he said "we need it in this decade to deliver unmanned in the fleet we want to get to."
Gilday both in his statement at the event and in the memo compared Project Overmatch with previous engineering and development challenges like the original nuclear propulsion systems, the Polaris submarine-launched ballistic missile, and Aegis system.
"I challenge you to beat their pace," Gilday wrote.
Breaking Defense first reported on the memo on Oct. 14.
Gilday also issued a memo the same day to Deputy Chief of Naval Operations for Warfighting Requirements and Capabilities, N9, Vice Adm. James Kilby directing him to lead complementary efforts to enable the Navy swarming at sea as the Navy's "Future Force Architect."
He said while Small will create the "connective tissue," Kilby is tasked with accelerating the development of unmanned capabilities and long-range fires his effort enables.
The CNO argued the unmanned development efforts "require increased urgency and coherency with each other and from their manned teammates. We require accelerated development of the CONOPS to test, evaluate, and exploit these capabilities, and an integrated any-sensors/any-shooter kill chain enabling long-range fires. We must move with speed beyond the legacy, incremental, and tribal approaches to achieve these ends."
Kilby was also directed to provide his initial plan within 60 days and updated every 90 days thereafter. He will work with Geurts to set requirements while funding each component.