Army Secretary Ryan McCarthy said Thursday the service's "night court" divestitures for the fiscal year '22 budget will be at a similar level to the FY '21 amount, which found $13.5 billion to shift toward modernization, with subsequent years to likely go after larger cuts.
McCarthy told reporters more extensive cuts to legacy systems in FY '23 and FY '24 may be required as the service looks to secure full funding to begin production for some of its next-generation platforms.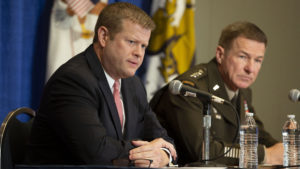 "What you're going to see in [FY] '23 and '24, the Army is faced to deal with legacy assets. We're going to have to cut more of our legacy systems as you start to see these 31 plus three signature systems landing in the formation. And they're already hitting. [FY] '22 and '23 are going to be big years for us with large, major defense acquisition programs starting to come off the production line," McCarthy said.
Earlier this month, McCarthy said the Army will have to make "borderline contentious" divestiture decisions in the near future as the service faces likely flat or declining budgets.
"We'll look at where are the ways to cut out cost and really focusing in on the programs that can meet cost, schedule and performance and that's where we're going to stay laser focused. And the ones that can't keep pace, those are going to be the first ones to get cut," McCarthy said on Thursday.
The Army's top acquisition official said Tuesday the service is looking to new data-driven costing models to inform divestiture decisions (Defense Daily, Oct. 13).
McCarthy said he doesn't anticipate tight budgets will lead the Army to prioritizing development of its signature systems, which include new combat vehicles, aircraft, air and missile defense systems.
"I think it's too early. You have to really see what the topline is going to be. Right now, we've found a way to manage the balance sheet and have been able to do it. Right now, we think we can hold the line," McCarthy said.