Army officials leading the service's Future Vertical Lift (FVL) efforts said development of an open system architecture is a top priority for maintaining the affordability of the program's suite of next-generation platforms.
The officials also told attendees during a webinar at the virtual AUSA conference that all FVL programs remain "on schedule and on budget" with no delays as a result of the pandemic.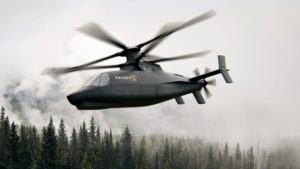 "The greater [Army] aviation enterprise has kept all of our signature efforts on schedule and on budget through this COVID pandemic. No small task to fight through and maintain momentum," said Brig. Gen. Walter Rugen, director of the FVL Cross-Functional Team. "We are maintaining our affordability goals within FVL and within our portfolio. We built a lean, cost-conscious program."
The Army's FVL program includes development of the Future Attack Reconnaissance Aircraft, Future Long Range Assault Aircraft and the Future Tactical UAS, which all utilize the new Modular Open System Architecture (MOSA) "digital backbone."
Brig. Gen. Robert Barrie, the program executive officer for aviation, said MOSA is "absolutely, 100 percent" the Army's top priority for maintaining the affordability in the long-term for sustainment and upgrades to the full suite of FVL platforms.
"Open system architecture and an open system approach, we acknowledge it's going to be the hardest thing we do. But as I said before, it's going to be one of the most important things we do to maintain the affordability and effectiveness of the future fleet so we can continue to evolve capability in a new way," Barrie said.
Barrie also said development of the Aviation Mission Common Server (ASMC) will create a "cloud-like" platform for future aircraft that allows the Army to easily integrate new plug-and-play capabilities without needed prime contractors to integrate new tools.
"That is a development effort that we have underway that will start on the enduring fleet and we see it as a bridge to future capability. It is a gateway to allow the hosting of applications and software processes independent of our Original Equipment Manufacturers," Barrie said. "We don't have to go back to all of our prime manufacturers, instead we can rapidly integrate capability onto the enduring fleet today using ASMC as a host to bring that software onboard."