The Navy launched the biennial International Maritime Exercise (IMX) 2022 on Jan. 31 at the U.S. 5th Fleet headquarters in Bahrain
The exercise consists of 50 ships, 9,000 personnel, 60 nations and organizations total, with 10 bringing their own unmanned systems. The Navy said IMX '22 is the largest unmanned exercise in the world with 80 unmanned systems.
"This level of representation demonstrates shared resolve in preserving the rules-based international order. This is a unique opportunity to increase our capabilities and interoperability while strengthening maritime ties," Vice Adm. Brad Cooper, commander of U.S. Naval Forces Central Command, U.S. 5th Fleet and Combined Maritime Forces, said in a statement.
Cooper previously told reporters IMX '22 is the result of progress in Task Force 59, an organization created last September to help test and integrate unmanned systems and artificial intelligence (AI) into the Navy (Defense Daily, Jan. 18).
Last October, the Navy said Task Force 59 was conducting several smaller experiments leading up to IMX '22. That month, the 5th Fleet conducted the exercise New Horizon, the initial at-sea evolution of Task Force 59 with participation by Bahrain maritime forces (Defense Daily, Oct. 27, 2021).
The Navy said this exercise will allow participating forces to test unmanned systems and artificial intelligence in training scenarios to help apply lessons learned in future real-world operations. Training is also set to focus on enhancing command and control, sea control, maritime security operations and mine countermeasures.
This is the seventh iteration on IMX since it first started in 2012. Training work in this year's exercise is set to occur across the Persian Gulf, Arabian Sea, Gulf of Oman, Red Sea and North Indian Ocean. It is expected to end on Feb. 17.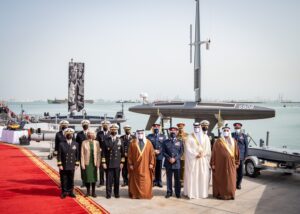 Officials on Wednesday told reporters during a media call that AI and machine learning were integrated into most of the events taking place.
Cmdr. Tom McAndrew, exercise planner for unmanned systems and AI integration, said that while he could not provide specific details, AI and machine learning in support of maritime domain awareness is a major theme of the exercise.
He noted that a task ground commander may gain access to a large amount of imagery from numerous sensors, but AI and machine learning are needed to help collect and process the information into data a commander can use.
McAndrew also said unmanned systems and AI will be used in search and rescue. He said it is critical to quickly identify and recover people in the water.
"Unmanned systems, when they're deployed in the way that we're planning, we believe can cover a larger area, identify someone quicker and more accurately," he said.
The forces participating in the exercise are being divided into four geographical combined task forces led by the United Arab Emirates, Egypt, Kenya and Oman. IMX also established a combined Task Force X to conduct segments of the exercise focused on unmanned systems and artificial intelligence integration.
McAndrew is leading Task Force X.
Lead exercise planner for IMX, Cmdr. Kenyatta Martin, told reporters while only 10 participants are bringing unmanned platforms, the exercise is being conducted at the unclassified level so they can all practice transferring data and cooperate using these kinds of systems.
"So the overall classification for the exercise is unclassified. We wanted maximum ability to share data with all of our participating partner nations so that was a purposeful part of the planning, was to begin with how do we talk to each other, how do we share information on an [unclassified] level."
In future iterations, Martin said other exercises may incorporate unmanned systems and AI collecting and sharing classified information.
Martin underscored planning for IMX '22 started in December 2020 but was an add-on that may have improved participation rates.
"The unmanned portion of it happened about halfway through the planning cycle, and so when we began planning this exercise…we didn't plan it from the beginning to include the unmanned systems."
He said adding the unmanned aspect attracted more interest rather than deterring participants that do not have their own unmanned systems.
"Once we did incorporate the unmanned systems part of the exercise, there was quite a bit of interest from our partner nations to participate and not just on a level of curiosity but on a level of integration and participation with the knowledge of this unmanned and AI being part of this coalition force," Martin said.
"So from a planner's perspective, it's actually been a pleasant surprise in terms of the level of interest and for those countries that are participating with their own unmanned systems, it's created an even better dynamic for the exercises," he continued.
U.S. unmanned systems participating in IMX include the Devil Ray T-38 unmanned surface vessel (USV), Triton hybrid surface and undersea system, Aerovironment Switchblade 300 one-way mortar-fired unmanned aerial vehicle, Martec Mantas T-12 USV, Boeing [BA] wind-powered Wave-Glide USV, solar and hydro-powered Saildrone Explorer USV, Anduril Ghost 4 vertical takeoff and landing unmanned aerial vehicle, and the Huntington Ingalls Industries [HII] Remus 300 unmanned undersea vehicle.
Participants in IMX '22 include a range of countries and organizations including the U.S, United Kingdom, France, Turkey, United Arab Emirates, Yemen, Israel, INTERPOL, NATO Allied Maritime Command, New Zealand, Canada, Denmark, Djibouti, Egypt, Germany, India, Pakistan, Jordan, Saudi Arabia, Senegal, Uruguay, Kenya, Nigeria, Rwanda, and the Philippines.