The Navy's top officer on Monday said the service's Project Overmatch plans to conduct a series of increasingly complex communications network tests this year.
"I think we're in a very good vector right now, with four substantive spirals this year, testing and evaluation that begins to deliver that network of networks that I think we so critically need this decade," Chief of Naval Operations (CNO) Adm. Michael Gilday told reporters during a Defense Writers Group event on April 5.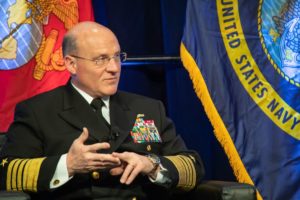 Gilday noted Project Overmatch is the Navy's contribution to the overall Defense Department joint force's Joint All-Domain Command and Control (JADC2) effort.
Last October, Gilday directed commander of Naval Information Warfare Systems Command Rear Adm. Douglas Small with leading Project Overmatch to help build the Naval Operational Architecture. The project aims to support a future naval force where both manned and unmanned ships operate in a distributed manner and create a common operating picture to allow commanders to best match sensor and shooter platforms via various networks (Defense Daily, Oct. 15, 2020).
"We're going to do four spirals this calendar year, each one of them in increasing complexity, to tie together more networks and more applications. And we want to expand this to a strike group in late '22 or early '23 is our target timeframe right now so we can test this at sea under some pretty austere conditions."
In February, Vice Adm. James Kilby, Deputy Chief of Naval Operations for Warfighting Requirements and Capabilities (N9), confirmed the Navy aims to deliver a "minimally viable capability" to the Theodore Roosevelt Carrier Strike Group (TRCSG) in fiscal year 2023 (Defense Daily, Feb. 9).
This week, Gilday explained his goal with the project is to "take the existing networks that we have and to create a network of networks where we can pass any data over any network that we choose."
He used the example of tactical fire control data normally used only on a fighter-to-fighter network but in this case the information could be transferred to another network that "software decides is going to be more resilient, it's going to be faster, it's a better way to get the information from sensor to shooter. And to do that, without an operator involved in the decision-making in terms of what network is going to be used."
Gilday said Small has thus far "put together a fairly robust group of people" who are looking at how the Navy can leverage industry best standards to deliver that kind of capability.
The CNO also reiterated part of the Navy network plans have been to give more authorities to Small with respect to him becoming the authorizing officer to make decisions in the use of the various networks and applications that will be paid over the networks.
"So as an example – we will rely less on applications being embedded in legacy operating systems and they will really reside in the backbone of our systems out at sea, which is currently a system called CANES. And so, using industry best standards, we would containerize and test new software, patches, or new software applications that industry offers."
CANES is the Consolidated Afloat Networks and Enterprise Services program that modernizes shipboard computing systems and consolidates five legacy networks into one.
The Navy plans to test the new software in a containerized way or on a replica, or digital twin, of CANES to help make the testing cycle much faster.
"In today's environment, it may take us weeks to test a software patch on a certain operating system and make sure it's not going to break other systems on our ships," Gilday said. "We want to be able to do that in minutes or hours instead of weeks. And so that's where part of this effort is going to take us in terms of adopting industry standards and part and parcel of that is giving a single person more authorities so that he can act in a more rapid fashion."