The first piece of the Navy's new Project Overmatch is planned to be delivered to the Theodore Roosevelt Carrier Strike Group (TRCSG) in 2023, officials confirmed recently.
In October, Chief of Naval Operations Adm. Mike Gilday directed commander of Naval Information Warfare Systems Command Rear Adm. Douglas Small with leading Project Overmatch to help build the Naval Operational Architecture (Defense Daily, Oct. 15, 2020).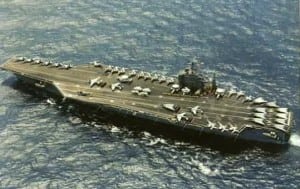 This is all aimed at a future naval force where manned and unmanned systems operate in a distributed manner and collect data to help create a common operating picture to allow commanders to best match sensor and shooter platforms via new networks and battle management tools.
At the annual Surface Navy Association Symposium on Jan. 11, Vice Adm. James Kilby, Deputy Chief of Naval Operations for Warfighting Requirements and Capabilities (N9), confirmed the service aims to deliver a minimally viable capability to the TRCSG in fiscal year 2023 on the way to the final product.
At the same time that Gilday tasked Small with leading Project Overmatch in one memo, a concurrent memo directed Kilby to lead complementary efforts as Future Force Architect to enable a future Navy force that swarms at sea. This means while Small is creating connective tissue, Kilby aims to quicken development of unmanned capabilities and long-range fires allowed by Project Overmatch networks (Defense Daily, Nov. 2, 2020).
More recently, during the American Society of Naval Engineers virtual Technology, Systems and Ships symposium on Jan. 28, Small elaborated on what this initial piece of the project will mean.
Unlike Kilby, Small was not willing to discuss specific timelines or platforms, but said with a task as large as project Overmatch, "you have to go at it in an agile manner. So step one for us was – lets break this thing down into agile chunks and take a look at what are the things that we're working on currently now that we can take advantage of and then grow from there."
Small added this kind of MVP happens with any agile product to allow personnel to use it and learn from it while the service is still building additional capabilities.
This way "you at least have something out there to start with. And it's a military usable set of capabilities. So that's sort of the concept behind the minimum viable product. It consists of things like networks that are brought in as part of overmatch, certain configurations of networking gear like CANES, certain sets of management aids and planners and things like that, and then defining data structures for that first increment of capability."
CANES is the Consolidated Afloat Networks and Enterprise Services (CANES) program that modernizes the Navy's shipboard computing systems and consolidates five legacy networks into one.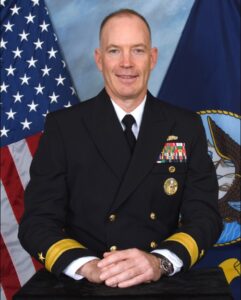 Small said his team will take some time to develop the minimum viable product and get it out when it is ready.
He also emphasized a key part of Project Overmatch is using a fleet-centered design.
"So beyond just going to the fleet, saying what are your requirements, which of course we've done over and over, and coordinating at deep technical levels on what is required for the fights today, frankly – we have partnered with other elements of the fleet to actually bring operators into the lab as we're doing the development. So beyond the notion of an MVP and when we ship it out, we're actually bringing the operators into the lab."
This design aims to find out how to operate this kind of network of networks; what kinds of tools are required to be able to establish, maintain, fight, and defense a network of networks; and focus on what actors need to take the information and fight with it.
Small said a key tenet of the project is to "make sure that we're meeting those needs early in development and then throughout development to include all of our test events, all of our live virtual constructive events – all of that so that by the time we do get any MVP or any product out there…the design has been helped by the fleet before it gets out there."
Small underscored this is all part of a push to enhance the distributed maritime operations (DMO) concept, including focusing on future manned-unmanned system teaming,
"This notion of manned-unmanned teaming so a large part of our future force can be made up of unmanned vessels and unmanned aviation and undersea vehicles and we need to be able to team them with manned vessels and manned systems in ways that exploit all of their capabilities."
Small said the CNO's memo to him specifically called for the need of machine learning-type capabilities "so we need to make sure that machines are doing things that machines are really good at and maybe humans aren't quite so good at. Getting machines to take over some of these functions so that we can control more unmanned vessels from the manned side."