The Senate on Monday evening voted to confirm Kathleen Hicks as Biden's deputy defense secretary, becoming the first woman confirmed to serve as the Pentagon's no. 2 official.
Hicks, who was a top policy official at the department during the Obama administration, most recently served as senior vice president of the Center for Strategic and International Studies (CSIS) before leading Biden's Pentagon transition team.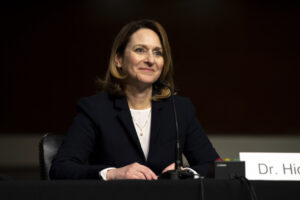 "Today, Dr. Hicks made history and I know she will get right to work in this critical role.  She is a highly regarded defense policy expert who has served in multiple administrations with integrity and distinction. She is a true professional. I am pleased she will join Secretary Austin in leading the Department of Defense forward, defending our nation, and upholding our values," Sen. Jack Reed (D-R.I.), chair of the Senate Armed Services Committee, said in a statement.
During her confirmation hearing, Hicks said a review of nuclear modernization priorities and the Navy's new 30-year shipbuilding plan are among her top items in her new role (Defense Daily, Feb. 2). 
Hicks also told lawmakers she believes the department could still meet its full slate of national security requirements in the face of likely flat or slightly lower defense budgets in the coming years.
During Austin's confirmation process, the former general responded to lawmakers' concerns over having a recently retired military official leading the department by reiterating that he would empower civilians such as Hicks to have major roles in policy decisions.
With Austin also recusing himself from department decisions involving Raytheon [RTN], where he recently served on their board, decisions involving the company will fall under Hick's purview.