The Senate Armed Services Committee (SASC) on Wednesday voted 13-13, along party lines, on the nomination of Colin Kahl for the Pentagon's top policy job, the latest contentious step in his confirmation process.
Senate Majority Leader Chuck Schumer (D-N.Y.) will now have to make a motion to discharge Kahl's nomination to bring a vote to the full Senate floor, and then potentially need to bring in the vice president to break another tiebreaker vote down the road.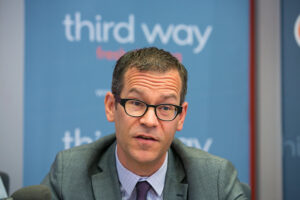 Kahl, who served as the national security adviser to the vice president during the Obama administration, faced tough scrutiny from Republican lawmakers during his recent confirmation hearing over previous social media posts criticizing the Trump administration and for his role in crafting the Iran Nuclear Deal (Defense Daily, March 11).
Following Wednesday's vote, the 13 GOP members of SASC released a joint statement on their unanimous opposition to Kahl's appointment for under secretary of defense for policy, with several calling on President Biden to reconsider his nomination.
"The Republican members of the Senate Armed Services Committee are united in their opposition to the nomination of Dr. Colin Kahl to serve as Under Secretary of Defense for Policy – the number-three civilian position across the entire Pentagon. We've each had a chance to hear from him – whether one on one, at his nomination hearing or both – and we all agree that he has neither the disposition nor judgment to serve in this critical position at this critical time. This is not a position we take lightly, but we urge our colleagues to reject this nomination when it comes to the floor," Sen. Jim Inhofe (R-Okla.), the SASC ranking member, said in a statement.
Kahl, however, was able to secure Sen. Joe Manchin's (D-W.Va.) support for the committee vote, which arrived after Defense Secretary Lloyd Austin met with Manchin following reports the senator was undecided on his position (Defense Daily, March 11).
"The secretary looks forward to having Dr. Kahl installed as the under secretary of defense for policy. He urges the Senate to give him a vote so we can get him on board. It's a critical job in the building to make sure that, as the secretary has said, we have policy that's matched to the will of the American people and strategy and resources that then can inflow from that policy. And Colin Kahl is exactly the right individual to help us lead that policy making effort," Pentagon spokesman John Kirby told reporters on March 11.