Senate Majority Leader Chuck Schumer (D-N.Y.) on Monday filed a procedural motion to move forward on the chamber's version of the fiscal year 2022 defense authorization bill, with a vote to begin floor debate likely set for Wednesday.
In a letter sent out Sunday to lawmakers, Schumer also said a $250 billion Senate-passed bipartisan package aimed at bolstering supply chain and technology competitiveness with China may be added to its version of the National Defense Authorization Act (NDAA).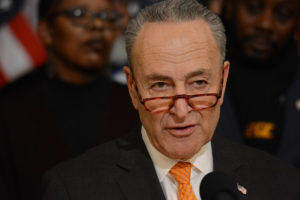 "As you know, the legislative agenda for the remainder of 2021 is considerable. In addition to the [Build Back Better Act], we will aim to process the FY '22 National Defense Authorization Act and a short-term continuing resolution that we hope will allow more time for a bipartisan, bicameral agreement on FY '22 appropriations," Schumer wrote.
Schumer has faced pushback from both House and Senate lawmakers in recent weeks over the delay in advancing the NDAA, with Sen. Jim Inhofe (R-Okla.), the top Republican member on the Senate Armed Services Committee (SASC), saying he had yet to receive a specific answer for why the bill had not moved to the floor (Defense Daily, Nov. 2). 
SASC advanced its FY '22 NDAA, which included a $25 billion topline increase, in July, and then filed the full bill in late September two months after committee markup (Defense Daily, Sept. 22)
During a recent press conference, Inhofe said the bill was on course for "one of the latest Senate considerations of the National Defense Authorization Act in history."
"As the global threat map grows more dangerous, I'm glad the Majority Leader finally took a key step forward on this year's National Defense Authorization Act — a bipartisan bill that takes care of our troops and gives them the authorities and resources they need to defend the country. China continues unabated to accelerate its historic military modernization and Russia pushes the envelope at every turn, so it's time for the Senate to do its job from start to finish — with what I hope is an open amendment process. Today, we are one step closer to going to conference and enacting this must-pass bill — just as we have for the last 60 years in a row," Inhofe said in a statement on Monday evening.
Schumer said in his letter he has received bipartisan support for potentially including the U.S. Innovation and Competition Act (USICA) as part of the NDAA, which the Senate passed in June and included $81 billion for the National Science Foundation to work on areas such as artificial intelligence, quantum computing and robotics over the next few years as well as more than $50 billion aimed at bolstering domestic semiconductor production (Defense Daily, June 9). 
"I have had a number of conversations with Senators on both sides of the aisle and there seems to be fairly broad support for doing so, which would enable a USICA negotiation with the House to be completed alongside NDAA before the end of the year," Schumer wrote. "One of the core goals of USICA is bolstering U.S. domestic manufacturing and supply chains. The funding and policies included in USICA will help alleviate the supply chain challenges facing our small business and consumers on a daily basis, making its passage this year critical."
While Schumer's letter didn't specify the number of NDAA amendments likely to be considered on the floor, he said a vote is likely on a bipartisan provision to repeal the 2002 Iraq AUMF.
"I made a commitment to having a vote on this proposal in 2021 and the NDAA is a logical place to have that vote," Schumer wrote in his letter.
The House has already passed its $768 billion FY '22 NDAA in late September with a bipartisan 316 to 113 vote, but the two chambers must still meet in conference to iron out differences between the two versions of the bill (Defense Daily, Sept. 24).
Schumer said he hopes to see progress made on a fiscal year 2022 bipartisan spending package, while noting another continuing resolution is likely with the current stopgap funding bill set to expire on Dec. 3.
"I am disappointed that we have not yet been able to reach a 'topline' agreement on funding levels for FY2022 with our Republican colleagues. But I am hopeful that we can reach an agreement soon so that the Committees can finalize their bills and we can consider a FY2022 omnibus bill later this year," Schumer wrote.