The House on Thursday evening passed its $768 billion version of the fiscal year 2022 National Defense Authorization Act (NDAA) with a bipartisan 316 to 113 vote.
Lawmakers approved the defense policy bill, which includes a $23.9 billion topline increase above President Biden's requested funding level, following three days of debate and floor consideration of over 400 amendments.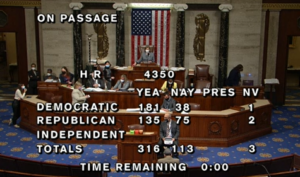 "I am once again incredibly proud of the work of the House Armed Services Committee (HASC), despite the ongoing challenges posed by the COVID-19 pandemic. The NDAA represents the legislative process at its best. This year, like every year, we worked for months to identify policies where we agree, and where we don't, and engaged in thorough, thoughtful debate on all of them. In an era where our politics is so dominated by divisiveness, it has never mattered more to show the American people that democracy still works," Rep. Adam Smith (D-Wash.), the HASC chair, said in a statement.
In total, 181 Democrats were joined by 135 Republicans in voting to pass the bill.
The House's version of the NDAA matches the Senate Armed Services Committee's move to also approve nearly $25 billion more in defense spending, with the two versions to now be worked out in conference.
The Senate has yet to take up its version of the bill, with SASC officially filing the legislation on Wednesday (Defense Daily, Sept. 22).
Rep. Mike Rogers (R-Ala.), the HASC ranking member, introduced the topline boost as an amendment during committee markup, with the additional spending covering the full range of DoD's unfunded priorities submitted to Congress as well as 200 member priorities not included in the underlying bill (Defense Daily, Sept. 1).
The House considered two amendments this week proposed by progressive lawmakers to reverse the topline increase to the NDAA, with both measures ultimately being voted down.
One proposal called for implementing a 10 percent total cut to defense spending while another would have reversed the $23.9 billion topline increase adopted during committee, with Smith voting in favor of the latter amendment.
Ultimately, the House's NDAA moves forward supporting a $768 billion national defense budget to include a $740 billion Pentagon base budget.
The House also voted down an amendment from Rep. John Garamendi (D-Calif.) that would have prohibited funding for the Ground-Based Strategic Deterrent program to field a new intercontinental ballistic missile. The measure received a 118-299 vote.
Garamendi has previously introduced a bill that would look to pause GBSD development until 2031 and instead focus on extending the service life of the current Minuteman III ICBMs to 2040, as a means of potentially saving tens of billions of dollars (Defense Daily, June 30).
Several other measures defeated during floor debate included an amendment from Rep. Jamaal Bowman (D-N.Y.) to remove the U.S. military presence in Syria without Congressional approval within a year of the bill's passage, a measure from Rep. Hank Johnson (D-Ga.) to prohibit the transfer of additional surplus military equipment to law enforcement agencies and a provision from Rep. Kurt Schrader (D-Ore.) that looked to limit the requirement to submit unfunded priorities list to the six service branches and U.S. Special Operations Command.
The House did vote to adopt two separate measures to further restrict the delivery and support of certain weapon systems with Saudi Arabia in response to the country's strikes in Yemen that have led to civilian casualties, to include an amendment from Rep. Gregory Meeks (D-N.Y.) that would suspend U.S. sustainment and maintenance support to Saudi air force units responsible for the strikes and a more stringent provision from Rep. Ro Khanna (D-Calif.) that calls for ending U.S. military logistical support, and the transfer of spare parts to Saudi warplanes and cutting off intelligence sharing that may enable offensive strikes.