A bill introduced in the House on Wednesday looks to pause development of the future Ground Based Strategic Deterrent (GBSD) intercontinental ballistic missile until 2031 and instead focus on extending the service life of the Minuteman III missiles to 2040.
Rep. John Garamendi (D-Calif.), chair of the House Armed Services Readiness Subcommittee, is leading the bill, which would also pause the development of the GBSD's W87-1 warhead, as a means of potentially saving tens of billions of dollars.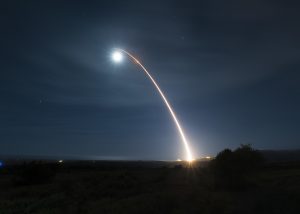 "Forging ahead with the deployment of the GBSD nuclear program is an unnecessary and costly mistake at the expense of the U.S. taxpayer, and further precipitates the modern nuclear arms race between the United States, Russia and China," Garamendi said in a statement.
The new bill arrives a week after Garamendi questioned Army Gen. Mark Milley, the joint chiefs chairman, during a hearing on how Milley would prioritize $37 billion in hypothetical savings if the GBSD program was paused for 12 to 15 years in favor of a service life-extension program for the current Minuteman III ICBM, citing figures from a 2017 Congressional Budget Office report. 
Milley responded that he "would not recommend taking that money away and putting it elsewhere," citing a concern that a pause to the program would lead to a capability gap for the land-based leg of the nuclear triad (Defense Daily, June 23). 
Northrop Grumman [NOC] is set to build GBSD under a $13-billion contract awarded in 2019, which will ultimately serve as the replacement for the Minuteman IIIs.
"Supporters of the current modernization approach tell us that the only choice is to proceed full steam ahead with the current modernization plans or allow our arsenal to rust into obsolescence. This is a false choice," Garamendi said. "My legislation acknowledges the facts and advice from various experts in this field and saves billions of dollars that can be spent to address more worthy defense needs. It also helps reset U.S. nuclear modernization policy, which greatly exceeds its deterrence requirement and will only worsen if planned modernization programs like GBSD continue."
Rep. Adam Smith (D-Wash.), chair of the House Armed Services Committee, told reporters on Tuesday that GBSD should remain unchanged while the Biden administration works through its nuclear posture review, adding that Congress is "not going to kill the GBSD program" (Defense Daily, June 29). 
The co-sponsors of Garamendi's Investing in Common-sense Ballistic Missiles (ICBM) Act of 2021 are Reps. Ro Khanna (D-Calif.), Don Beyer (D-Va.), Jim McGovern (D-Mass.), Barbara Lee (D-Calif.), Earl Blumenauer (D-Ore.), Ted Lieu (D-Calif.), Jared Huffman (D-Calif.) and Lloyd Doggett (D-Texas).