The Air Force will conduct an operational test launch of an unarmed Minuteman III intercontinental ballistic missile (ICBM) on Wednesday morning from Vandenberg Space Force Base in California, the Pentagon said on Tuesday.
"This launch is a routine test which was scheduled far in advance and, consistent with previous tests, this ICBM launch will validate and verify effectiveness and readiness of the system," Air Force Brig. Gen. Patrick Ryder, the Pentagon press secretary, told reporters ."The purpose of the ICBM test launch program is to demonstrate the readiness of U.S. nuclear forces and provide confidence in the security and effectiveness of the nation's nuclear deterrent."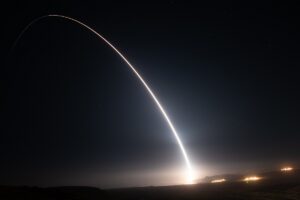 Ryder noted the U.S. has provided a pre-launch notification per the Hague Code of Conduct, and has notified Russia in advance of the test "pursuant to treaty obligations."
Air Force Global Strike Command last conducted a Minuteman III ICBM test launch on Aug. 16 after having previously scrapped two launch dates in March and earlier last month (Defense Daily, Aug. 16).
The delay in March was intended to avoid any misunderstandings as Russian President Vladimir Putin put his nuclear forces on high alert as Moscow began its invasion of Ukraine, while the recent delay was aimed at tamping down tensions with China after House Speaker Nancy Pelosi's (D-Calif.) visit to Taiwan and the Chinese military exercises off Taiwan that followed her arrival on the island.
"For those wondering about timing, the two launches moved closer together due to the delays from the August dates sliding to the right. And again, tomorrow's launch was scheduled far in advance," Ryder said.
The Northrop Grumman [NOC] LGM-35A Sentinel is to begin replacing the Minuteman III in 2029.