American Rheinmetall Vehicles announced Tuesday that Anduril Industries
has joined its team vying for the Army's Optionally Manned Fighting Vehicle (OMFV) competition.
As part of the team offering the Lynx Infantry Fighting Vehicle for the Bradley replacement program, American Rheinmetall Vehicles said Anduril will provide command and control software and bring experience in "software development, mission autonomy, systems integration, and command and control."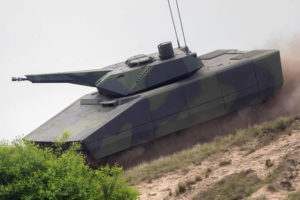 "The partnership with Anduril brings with it exceptional innovations in software development, command and control, sensor integration, and counter-UAS systems for inclusion in our OMFV offering. These additional technologies coupled with our existing teammates' respective strengths provide soldiers capabilities not available anywhere else in the world. Further, Anduril's innovative technologies and focus on customer requirements make it a superb partner to join Team Lynx in support of our work to deliver an unmatched, transformational IFV to the Army for the OMFV program," Matt Warnick, American Rheinmetall Vehicles' managing director, said in a statement.
In July 2021, the Army awarded nearly $300 million in contracts to five teams led by Germany's Rheinmetall, General Dynamics Land Systems [GD], Oshkosh Defense [OSK], BAE Systems and armor supplier Point Blank Enterprises for OMFV Phase 2 to work on refining their platform concepts over a period of 15 months (Defense Daily, July 23 2021).
Anduril is the latest member of American Rheinmetall's "Team Lynx" for OMFV, which also includes Textron Systems [TXT], Raytheon Technologies [RTX], L3Harris [LHX] and Allison Transmission [ALSN].
"Software is at the core of the weapons and military systems of the future," Zach Mear, Anduril's head of strategy, said in a statement. "Anduril specializes in delivering advanced mission autonomy, enabling commanders and battle managers to command and control more lethal capability at the tactical edge. We are thrilled to join Team Lynx and will leverage our deep experience in artificial intelligence, mission autonomy, and sensor integration to significantly reduce the cognitive burden of the OMFV's two soldier crew and provide them with next-generation tactical awareness, C2, and decisive lethality to dominate future battlefields."
Mike Milner, American Rheinmetall Vehicles' director of business development and strategy, previously told Defense Daily, the company's Lynx offering for OMFV includes a new remote turret designed specifically for the program (Defense Daily, Oct. 18 2021).
The Army in July released the final Request for Proposals for the next two phases of the OMFV competition, which covers detailed design and building and testing of prototypes, with plans to award up to three contracts to participate in both Phase 3 and 4 (Defense Daily, July 1).
Brig Gen. Glenn Dean, program executive officer for ground combat systems, told reporters at the time that proposals for OMFV Phase 3 and 4 will be broadly evaluated on projected performance of proposed systems at the digital level for lethality, protection and mobility, the vendors' approach to open architecture and assessments on the value of each proposed bid (Defense Daily. July 5).
After Phases 3 and 4, the Army plans to hold a "limited competition" to select one vendor for OMFV production in late FY '27, with plans to meet a first unit equipped goal in FY '29.