Boeing [BA] recently conducted a digital simulation of an open autonomy architecture to have manned Navy aircraft control MQ-25A Stingray unmanned carrier-based tankers, the company said on Tuesday.
In this event, the company virtually demonstrated how a Northrop Grumman
[NOC] E-2D Advanced Hawkeye command and control aircraft, Boeing P-8A Poseidon maritime patrol and reconnaissance aircraft, and F/A-18E/F Block III Super Hornet fighters could task four virtual autonomous MQ-25s to conduct tanking and intelligence, surveillance and reconnaissance (ISR) missions.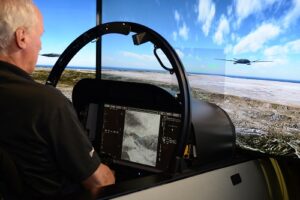 Don Gaddis, Boeing director of MQ-25 Advanced Design, confirmed to Defense Daily in an email that the demonstration took place "earlier this summer."
While the MQ-25 is primarily being procured for its tanker utility, the Navy has confirmed it will have some ISR capabilities as well.
Boeing said this demonstration used a non-proprietary architecture based on the government-owned Open Mission System specification as the foundation for advanced manned-unmanned teaming (MUM-T). The company underscored it showed how these other aircraft can use the architecture to task MQ-25s for tanking and ISR missions within airspace and "without traditional communications with the ship-based ground control station."
The virtual aircraft controlled the MQ-25s using existing operational flight program software and data links. Boeing noted in the Super Hornet's case they also used the Block III's advanced tactical data links combined with the company's conceptual Project Black Ice crew vehicle interface, reducing aircrew workload.
Gaddis told Defense Daily all aircraft involved were virtual representations used in the laboratory demonstration, "which is a necessary step before flight tests. The most efficient, quickest, and safest way to MUM-T flight test and certification is through a building block approach using model-based engineering, then laboratory demonstration with real software, use of surrogate testing where necessary, then actual aircraft."
"In this case our MUM-T laboratory is integrated with a real, open autonomy software framework, third-party autonomous behaviors/software, an MQ-25 platform abstraction, and actual aircraft operational flight program software designed with crew vehicle interfaces for data link communication to the MQ-25," he continued.
The company boasted in the demonstration both the P-8A and E-2D could "easily task" an MQ-25 with an ISR mission that only specifies the search area and no fly zones. After that, an autonomy framework developed by Boeing's subsidiary Aurora Flight Sciences had the virtual aircraft complete the rest of the tasking. The framework helped the virtual Stingray validate the command against its operational constraints, plan its route and conduct a search pattern.
"Large swaths of ocean could be surveilled, identified and targeted when MQ-25 is teamed with carrier-based assets such as the E-2D or the land-based P-8A patrol aircraft. Through this demonstration, our customers saw how this digital, open approach to MUM-T is key to fielding critical warfighting capability at much lower cost and with greater speed and agility," Gaddis said in a statement.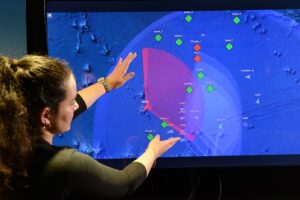 This demonstration builds on a previous virtual demonstration Boeing announced last year that tested an MQ-25 communicating with an E-2D and F/A-18E/F via existing Link 16 data, without needing air vehicle operators on the ground (Defense Daily, Aug. 3, 2021).
At the time, Gaddis said the MQ-25 is tied to the air vehicle operator, but they were testing what if a mission plan has to change when communication links are degraded, denied or prohibited by policy. This means if the carrier cannot communicate with the MQ-25 directly, Boeing is building capabilities for the E-2D and Super Hornet to communicate or direct the tanker to change its autonomy behaviors.
Now, Gaddis noted Defense Daily the Office of Naval Research "provided foundational, tech-based funding in 2021 for the initial MQ-25 MUM-T demo and Boeing invested to continue that work with the 2022 demo based on the Navy's prioritization of MUM-T as outlined in the [Chief of Naval Operations] Unmanned Campaign Framework."
In March 2021, the Navy and Marine Corps released an unclassified version of the framework that argues the Navy Department needs to use unmanned systems to maintain the U.S. military competitive advantage, with one main goal advancing manned-unmanned teaming effects (Defense Daily, March 17, 2021).
In the most recent tests, Boeing also highlighted that Aurora created and demonstrated a software boundary called a prototype platform abstraction layer that separates out the MQ-25's flight safety and flight critical components from mission software and sensor hardware.
The company said this commercial best practice allows third party applications to be used on the MQ-25.
Indeed, in this virtual demonstration the Stingray used a new radar search application created by Naval Air Warfare Center Aircraft Division (NAWCAD). NAWCAD created the application using an Aurora-provided software development kit.
"Aurora's robust software development kit enables our Navy teammates to rapidly integrate new capabilities. The platform abstraction demonstration met test objectives for resource sharing between multiple onboard systems and supervisors, and these efforts will greatly reduce government test and certification costs as new capabilities are added over time," Graham Drozeski, vice president of Government Programs for Boeing's Aurora Flight Sciences, added.
Gaddis told Defense Daily the integration of a third-party piece of software in the MQ-25 autonomy framework is significant.
"It shows that we can build open architecture systems using government-owned standards, then integrate third-party software. We're designing MQ-25 for scalability, extensibility and portability to provide warfighting solutions such as this radar surface search pattern faster and for a lot less cost. In doing so, we're applying commercial best practices."
Gaddis also noted Boeing saw "sizable interest" in this latest demonstration from over 100 officials across the Pentagon and the Navy attending demos over multiple days.
"In the lab environment, these officials saw an integrated battlespace where the P-8, E-2D and F/A-18 were able to provide inputs to the MQ-25 via the autonomy core in a number of operational scenarios to fulfill changing mission requirements. You could see the MQ-25 receiving the commands on a screen while Aurora Flight Sciences' autonomy core and behaviors processed the inputs and reacted accordingly to execute the mission."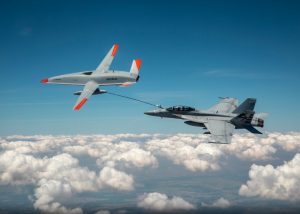 He said the timeline for demonstrating these capabilities with physical aircraft is dependent on funding and resources for additional development. However, Gaddis argued these two virtual tests in two years show MUM-T "is feasible sooner than you would think using existing OFP software and crew vehicle interfaces."
The Navy first awarded Boeing an $805 million engineering and manufacturing development (EMD) contract to design, develop, build, test, deliver and support four EMD MQ-25As. The service plans to reach initial operational capability in 2025 and ultimately procure 72 Stingrays total (Defense Daily, Aug. 30, 2018).
The first operational MQ-25A is expected to be deployed aboard the USS Theodore Roosevelt (CVN-73) by 2026. The first EMD model is planned to be delivered by this winter, which will be the first aircraft to conduct carrier-based flight tests.
Last year, the Navy conducted non-flight deck handling demonstration tests of the T-1 MQ-25 test asset aboard the USS George H. W. Bush (CVN-77) (Defense Daily, Dec. 20, 2021).
Also in 2021, the Navy and Boeing conducted the first unmanned tanker to manned refueling tests with a Super Hornet, E-2D, and F-35C Joint Strike Fighter (Defense Daily, Sept. 14, 2021).
The MQ-25 can pass about 15,000 pounds of gas at up to 500 nautical miles away from the carrier, which will free up Super Hornets currently assigned to tanking duties to operate as strike aircraft.