The House Armed Services Committee (HASC) wants the Air Force to review its approach to the Ground Based Strategic Deterrent (GBSD) program, to include identifying potential steps for reducing costs and introducing more opportunities for competition in the operation and maintenance phase.
The panel's draft version of the next National Defense Authorization Act notes the GBSD effort to develop a new intercontinental ballistic missile is expected to total $100 billion and calls on the Secretary of the Air Force to provide recommendations on potential improvements to the engineering and manufacturing development contract with Northrop Grumman [NOC].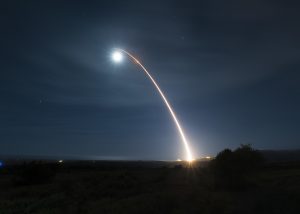 While HASC has supported full funding for GBSD in the bill, according to a copy of the chairman's mark obtained by Defense Daily ahead of next week's full committee markup, the report directive echoes Democratic lawmakers' concerns over the cost of the program.
The markup includes a note on recent remarks from Air Force Gen. John Hyten, the Vice Chairman of the Joint Chiefs of Staff, stating that GBSD must be "more affordable" and that "after meeting with the program office at Northrop Grumman multiple times I think that program can come in significantly cheaper."
Northrop Grumman is set to build GBSD under a $13 billion contract awarded in 2019, which will ultimately serve as the replacement for the Minuteman IIIs.
Specifically, the panel calls for the Air Force to provide a report reviewing the schedule, cost and executing of GBSD, opportunities to leverage increased competition during the O&M phase, and the service's ability to leverage digital engineering to help bring down costs.
The directive would require the Air Force secretary to appoint at least two experts outside of the defense industry to contribute to the GBSD review.
Rep. John Garamendi (D-Calif.), chair of the House Armed Services Readiness Subcommittee, introduced a bill in late June that would look to pause GBSD development until 2031 and instead focus on extending the service life of the Minuteman III missiles to 2040 as a means of potentially saving tens of billions of dollars (Defense Daily, June 30).