The House Armed Services Committee's (HASC) draft version of the next defense policy bill calls for increasing several Army accounts included on the service's unfunded priorities list, such as the CH-47F Chinook Block II, while once again proposing a significant cut to the service's future augmented reality headset program.
The panel also calls for authorizing an additional $250 million for the Army's research, development, test and evaluation account, after lawmakers raised concerns over proposed cuts included in the president's budget request.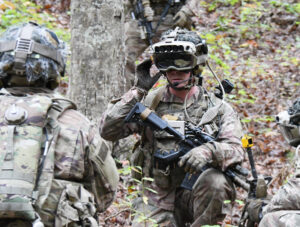 For the Integrated Visual Augmentation System (IVAS) headset, HASC has included a $214 million cut to the program from the Army's night vision devices account, according to a copy of the chairman's mark obtained by Defense Daily ahead of next week's full committee markup.
The decision follows a similar move during last year's NDAA and defense appropriations markup process during which lawmakers pressed the Army on its "aggressive fielding schedule" for the future headsets (Defense Daily, Dec. 22).
In late March, the Army awarded Microsoft [MSFT] a deal worth up to $21.9 billion over the next 10 years to move the IVAS program from rapid prototyping into production (Defense Daily, March 31).
For the CH-47 program, HASC authorizes $334 million for the Army, which is an increase of $170 million over the budget request.
The move follows the House Appropriations Defense Subcommittee's decision to restore funding for the CH-47F Chinook Block II program not included in the service's FY '22 budget request, providing for procurement of a full second set of five aircraft and long-lead funding for a third set (Defense Daily, June 29).
The Army has received pushback each time it's looked to reduce funding for the Boeing [BA]-built CH-47 as a means of shifting dollars toward higher priority modernization efforts, to include Congress blocking an attempt to reduce the program during the last budget cycle and instead adding $189 million for the program to include production of five aircraft (Defense Daily, Dec. 22).
The CH-47 program was included on the Army's unfunded priorities list submitted to Congress over the summer, which also listed efforts such as Paladin Integrated Management (PIM) howitzer modernization and Abrams tank upgrades.
HASC has in turn authorized $596 million for PIM, a $150 million increase above the request, and an additional $134 million for the Abrams upgrade program for a total of $1.1 billion.
The panel, however, included an $89 million cut to the Army's Joint Light Tactical Vehicle (JLTV) program, authorizing a total of $486 million, citing the requested funding as "early to need."
The Army's unfunded priorities list included a request for a $120 million increase for JLTV to cover 340 more vehicles stating that without additional funds plans to field three to five brigades per year over the next two decades will be "in jeopardy."