The Navy has conducted a successful test of the Second Stage Solid Rocket Motor (SRM) for the hypersonic weapon development program, the service said Thursday.
The demonstration, conducted on Wednesday in Promontory, Utah, follows a successful test of the First Stage SRM in May, as the service works toward advancing the offensive hypersonic missile capability for its own Conventional Prompt Strike (CPS) program and the Army's Long Range Hypersonic Weapon (LRHW).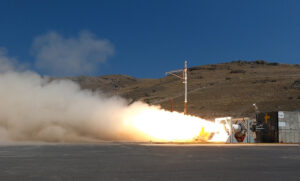 "This test marked the successful testing of both stages of the newly developed missile booster, as well as a thrust vector control system on the SRM," the Navy wrote in a statement. "These tests are a vital step in the development of a Navy-designed common hypersonic missile that will be fielded by both the Navy and Army."
The Navy noted the Second Stage SRM is part of the new missile booster supporting the Pentagon's effort to develop a common hypersonic missile, calling the latest test "a critical milestone leading up to the next series of Navy and Army joint flight tests" and eventually fielding the hypersonic weapons in the early-to-mid 2020s.
The Lockheed Martin [LMT] and Northrop Grumman [NOC] team participating in the hypersonic weapon development noted after the live fire ground test of the first stage solid rocket motor in May that the system fired for the full trial duration "and met performance parameters and objectives within anticipated ranges" (Defense Daily, May 27).
"The second stage SRM will be part of a new missile booster for the services, and will be combined with a Common Hypersonic Glide Body to create the common hypersonic missile," the Navy wrote. "Each service will use the common hypersonic missile, while developing individual weapon systems and launchers tailored for launch from sea or land."
The Navy is managing development of the C-HGB while the Army will handle production of the final version of the system.
Last March, the Pentagon conducted a successful flight test of the C-HGB from the Pacific Missile Range Facility in Kauai, Hawaii (Defense Daily, March 20 2020).