Oshkosh Defense [OSK] said Wednesday its Remotely Operated Ground Unit for Expeditionary (ROGUE) Fires vehicle, an unmanned modification of its Joint Light Tactical Vehicle (JLTV), has completed a second live fire test with Raytheon Technologies
' [RTX] Naval Strike Missile. 
The demonstration was part of the Navy's Sink at Sea Live Fire Training Exercises (SINKEX) in Hawaii, and included a successful launch and "direct hit on a target at sea," according to the company.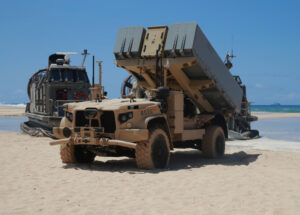 "ROGUE Fires was purpose-built and leverages next-generation capabilities from several proven Oshkosh Defense vehicle platforms and technologies," Pat Williams, the company's vice president of U.S. Army and Marine Corps programs, said in a statement. "Much like the JLTV itself, ROGUE Fires is tailorable to the mission at hand.  The flexible design allows for the integration of scalable weapon system payloads to offer the combatant commanders flexibility based on the mission's requirements."
The first demonstration of the Naval Marine Expeditionary Ship Interdiction System (NMESIS), which consists of the ROGUE Fires chassis outfitted with a ground launcher and the Naval Strike Missile, was conducted in November at Point Mugu Sea Range in California (Defense Daily, April 30). 
Gen. David Berger, the Marine Corps commandant, told lawmakers during a House Appropriations Defense Subcommittee hearing on April 29 that NMESIS is an example of how the Marine Corps can help the Navy maintain sea control in a way that provides flexibility to commanders and noted the speed at which it was developed.
"This is the speed we have to develop a capability like that, this Joint Light Tactical Vehicle is our new vehicle. We are probably 20 percent into the fielding of it. The missile on the back is already on naval ships right now. So this is the brilliance of a couple of young officers and Oshkosh and a few other people putting together different capabilities long before they've even thought it all the way through," Berger said during the hearing.