The final fiscal year 2021 defense appropriations bill includes a $235.6 million reduction to the Army's future augmented reality headset program and adds funding for the CH-47F Block II helicopter program over concerns for delayed upgrades.
For the Integrated Visual Augmentation System, being developed by Microsoft [MSFT], the bill includes funds for initial procurement but expresses concerns over the Army's plan to purchase tens of thousands of headsets with a final soldier evaluation still to be completed.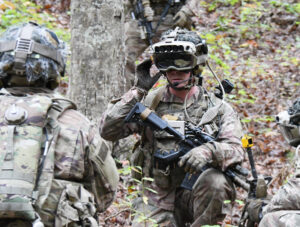 "The IVAS program is pursuing an aggressive fielding schedule to a large population of Close Combat Forces, resulting in a significant low-rate initial production procurement for an end-item that has not been operationally tested using production representative units, or its militarized form factor, as is planned for Soldier Touch Point Four," lawmakers wrote in the bill explanatory statement. "While the technology represents a potential leap-ahead in capability, it is essential that an appropriate amount of operational testing, including use by soldiers in realistic combat conditions with production representative units, inform the Army's decision to move to large-scale procurement."
The bill directs IVAS program officials to brief Congress after the fourth soldier touch point and before beginning initial procurement, to include information on "hardware and software design changes that will be incorporated into the final form factor."
A fourth and final IVAS soldier touchpoint is currently scheduled for spring 2021 (Defense Daily, Nov. 3). 
Lawmakers also direct the Army to include information, beginning in the FY '22 budget request, on IVAS components' quantity, unit cost, contract award schedule and manufacturer details. This includes the headsets' wearable battery, radio, advanced battery charger and tactical cloud package. 
For the CH-47, the bill funds $189 million more than the budget request to fund the Army's first five CH-47F Chinook Block II heavy-lift helicopters and long-lead funding for a second group of five CH-47F Block IIs, while noting "the Army currently has no replacement plans" for the heavy lift aircraft. 
The restored funding reflects Congress' continued effort to assess the Army's plan to potentially reduce its CH-47 Block II program, which the service has looked at as an opportunity to shift funds toward modernization.
"The Army has embarked upon an ambitious modernization initiative which has been supported by Congress and the Army must make difficult decisions to resource its plan. However, Army heavy lift capability will continue to be an essential part of the National Defense Strategy and its emphasis on near-peer competitors. Furthermore, the capability gaps that led to the Block II research and development efforts exist today, and significantly delaying improved heavy lift upgrades will defer important capability that is currently needed," lawmakers wrote.
The bill cites concerns that delayed production of CH-47F Block IIs has "resulted in significant overhead costs being shifted onto the MH-47G line, even though congressional support of F Block II remains evident."
A new provision directs the secretary of the Army to provide quarterly reports to the congressional appropriations committee on budget execution data for the CH-47 program and details on advance procurement budget lines. 
The language on IVAS and CH-47F Block II in the appropriations bill follows similar Army directives included in the final FY '21 NDAA conference report (Defense Daily, Dec. 4). 
Both the House and Senate passed the $696 billion defense spending bill, as part of a $1.4 trillion omnibus spending package, with bipartisan support on Monday evening (Defense Daily, Dec. 21).