Congress on Monday evening passed a massive $2.3 trillion spending deal, which includes $696 billion fiscal year 2021 defense spending and a new pandemic relief bill, as lawmakers also prepare for a vote to override the president's potential veto of the next defense policy bill.
Both the House and Senate approved the measure with bipartisan support, voting 359 to 53 and 92 to 6, respectively, and the president is expected to sign the bill in the coming days.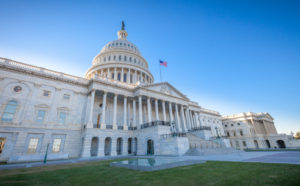 The spending package includes a $1.4 trillion omnibus spending package, including the $696 billion for defense, and a $900 billion COVID relief package.
For FY '21 defense appropriations, lawmakers included $2.3 billion for an additional Virginia-class submarine, funding for 96 F-35s, 17 more than the budget request, and increased spending for programs such as MQ-9 Reaper drones and the Army's CH-47F Block II Chinooks (Defense Daily, Dec. 21).  
The emergency relief package included a provision extending the deadline for defense contractors to submit pandemic-related claims for reimbursement through the end of March 2021.
Lawmakers, however, are preparing for the president's Wednesday deadline to veto the FY '21 National Defense Authorization Act, setting plans in place for an override vote in the House on Dec. 28 and the Senate on Dec. 29.
The president has repeatedly threatened to block the bill over its inclusion of a directive to rename bases named after Confederate leaders and for not including a provision for stripping a social media-related regulation.
The House and Senate each voted to pass the final NDAA conference report with veto-proof majorities, receiving votes well above the two-thirds majority support that would be required to override a potential veto (Defense Daily, Dec. 11).