The $1.9 trillion pandemic relief package the Senate passed on Saturday included an amendment to extend a provision allowing companies to submit COVID-related claims for reimbursement through the end of fiscal year 2021, rather than its current March 31 deadline.
Sens. Mark Warner (D-Va.) and Marco Rubio (R-Fla.) introduced the amendment to extend the Sec. 3610 of the CARES Act, which is aimed at helping cover the defense and national security industrial base's efforts to keep workers employed during the pandemic, with the Senate voting 93-6 to include the measure in the bill.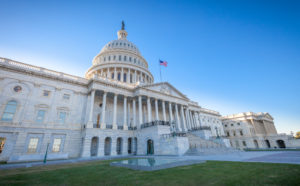 "We are pleased that the Senate passed this bipartisan legislation to provide much-needed stability for personnel who serve a key role in protecting our national security missions and other vital programs," Warner and Rubio said in a statement.
The $1.9 trillion relief package, which the Senate passed along party lines, is expected to receive a vote in the House on Tuesday.
"Extending 3610 and safeguarding the defense industrial base workforce is critical to our national security today and, more importantly, into the future," Hawk Carlisle, president and CEO of the National Defense Industrial Association (NDIA), said in a statement. "NDIA is thankful to lawmakers for understanding the criticality of this authorization to government contractors and the skilled, cleared workforce that delivers for our warfighters."
The Pentagon has continued to urge Congress to appropriate nearly $11 billion to help cover the defense industry's COVID-related costs, arguing the department's readiness and modernization efforts will be impacted without the funds (Defense Daily, Feb. 25).
In recent written testimony to the Senate Armed Services Committee, department officials said the Pentagon has only reimbursed $50 million to 84 companies to date.