Congress on Thursday passed a stopgap funding bill to keep the government open through Dec. 3, fending off a shutdown with just hours to spare before the end of the fiscal year.
The continuing resolution (CR) was approved without measures included in an original version that would have suspended the debt ceiling through December 2022 and provide $1 billion for Israel's Iron Dome system.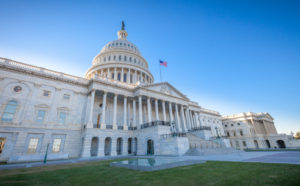 The Senate was first up to consider the CR on Thursday morning, and voted 65-35 in favor of the bill. Ten Republicans supported the measure, including Sens. Roy Blunt (R-Mo.), Richard Burr (R-N.C.), Shelley Capito (R-W.Va.), Bill Cassidy (R-La.), Susan Collins (R-Maine), John Cornyn (R-Texas), Lindsey Graham (R-S.C.), John Kennedy (R-La.), Mitch McConnell (R-Ky.), Lisa Murkowski (R-Alaska), Mitt Romney (R-Utah), Mike Rounds (R-S.D.), Richard Shelby (R-Ala.), Thom Tillis (R-N.C.) and Todd Young (R-Ind.).
"I am pleased that the Senate has passed the continuing resolution to keep the government open, allowing us more time to find a bipartisan path forward on our fiscal 2022 appropriations process. This effort did not need to be complicated. There was a simple solution negotiated on a bipartisan, bicameral basis, and that's what we advanced today – a bill that continues government funding and provides much-needed emergency and disaster assistance," Shelby, the top Republican on the Senate Appropriations Committee, said in a statement.
The House then voted 254-175 later in the afternoon to pass the CR, with 34 Republicans joining all Democrats in supporting the measure.
"I look forward to soon beginning negotiations with my counterparts across the aisle and across the Capitol to complete full-year government funding bills that reverse decades of disinvestment and ensures the government is looking out for the middle class, working families, and small businesses," Rep. Rosa DeLauro (D-Conn.), chair of the House Appropriations Committee, said in a statement.
While the debt ceiling measure was removed from the CR facing pushback from Senate Republicans, the House did vote last week in favor of a standalone bill to provide the $1 billion in funding to restore Israel's Iron Dome system.
The Iron Dome funding bill was approved by a bipartisan 420-9 vote, with eight Democrats and one Republican voting against the measure and two other Democrats also voting 'present' (Defense Daily, Sept. 23).
The House Appropriations Committee has already approved its $706 billion FY '22 defense spending bill out of committee, while the Senate Appropriations Committee has yet to roll out its version of the legislation (Defense Daily, July 13).