A group of House lawmakers introduced a bipartisan bill on Thursday that would bolster Congress' role in approving national security-related matters, to include greater oversight of foreign arms sales.
The National Security Reforms and Accountability Act (NSRAA), led by Reps. Jim McGovern (D-Mass.) and Peter Meijer (R-Mich.), would specifically require that Congress vote to approve foreign military sales or direct commercial sales worth more than $14 million for air-to-ground munitions, tanks, armored vehicles, manned and unmanned aircraft and services and training support.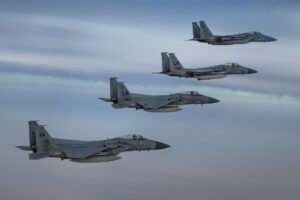 The bill also notes arms sales for firearms and ammunition worth more than $1 million would also require Congressional approval.
"For decades, presidents of both parties have slowly but surely usurped Congressional authority on matters of national security. It's happened regardless of who occupies the Oval Office or which party is in charge on Capitol Hill," McGovern, chair of the House Rules Committee, said in a statement. "We need to come together in a bipartisan way to reclaim our rightful role as a co-equal branch of government before it's too late, and that is what the National Security Reforms and Accountability Act aims to do."
The lawmakers note that under current law all arms sales are approved automatically unless a veto-proof majority in both the House and the Senate vote to block a deal.
The bill, which is also co-sponsored by Reps. Peter DeFazio (D-Ore.), Nancy Mace (R-S.C.), Barbara Lee (D-Calif.), Joaquin Castro (D-Texas) and Ted Lieu (D-Calif.), would also grant Congress a larger role in signing off on emergency declarations and authorizations for the use of military force.
"Under the bill, Congressional authorizations will have to meet specific requirements, including an automatic sunset. Activities lacking such authorization will face an automatic funding cutoff after a specified number of days," the lawmakers wrote in a statement detailing their bill. 
Similar bipartisan legislation has been introduced in the Senate, led by Sens. Chris Murphy (D-Conn.), Bernie Sanders (I-Vt.) and Mike Lee (R-Utah). The House lawmakers note their version "includes international law provisions in the war powers and arms sales titles and does not prescribe special procedures for joint resolutions of approval for arms sales."