The House voted Wednesday to pass a one-week continuing resolution to keep the government open through Dec. 18, as the most recent stopgap funding bill is set to expire on Friday.
The CR, which passed by a vote of 343 to 57, aims to provide lawmakers additional time to pass a larger omnibus fiscal year 2021 appropriations package and a new coronavirus emergency relief bill.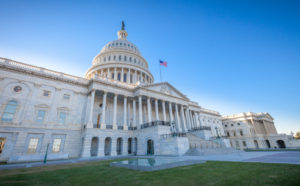 "This continuing resolution will keep the government open as we work to complete the appropriations process and deliver meaningful coronavirus relief to the American people," Rep. Nita Lowey (R-N.Y.), chair of the House Appropriations Committee, said in a statement. "Democrats continue to negotiate in good faith to complete our important work For The People, and it is imperative that the White House and Republicans join us in this effort."
The House passed its $694.6 billion FY '21 defense spending bill in July as part of a $1.3 trillion spending package (Defense Daily, July 31).
The Senate, however, has yet to pass its own version and only released details of its $696 billion defense appropriations legislation in November. That bill is part of a $1.4 trillion spending package (Defense Daily, Nov. 10).