The Navy intends to issue a solicitation for concept studies and preliminary design for the Light Amphibious Warship (LAW) before the end of the year, the service said in a contracting notice Dec. 4.
According to the notice, the service intends for the LAW to be a "long-range, beachable, medium-sized ship that will bridge the gap in expeditionary operations within a contested environment."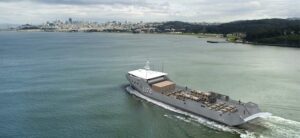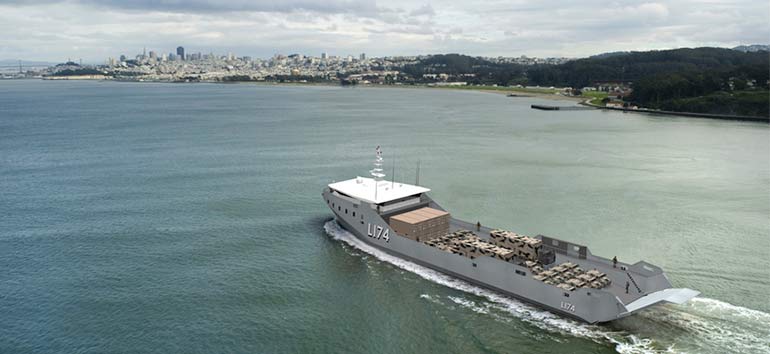 "LAW will be a new ship designed to support the employment of the Maritime Littoral Regiment (MLR) by providing direct conveyance to beaches in order to on-load and off-load expeditionary forces, equipment and supplies," the notice continued.
The Navy specifically plans to issue an unrestricted solicitation in the first quarter of Fiscal Year (FY) 2021. The quarter lasts from October to December, ending with the start of the next calendar year.
The notice said the Navy intends to award multiple contracts for the studies and design, with concept studies planned to be awarded in FY '21 and, if exercised, a preliminary design option award would also be awarded in FY '21.
The Navy underscored the award of a concept studies contract does not guarantee the exercise of the preliminary design option.
This comes after the Navy issued a Request For Information (RFI) for the preliminary design for LAW in October, revealing various technical specification (Defense Daily, Oct. 19).
Notably, the RFI said the LAW may potentially field missiles in the future.
In August, Marine Maj. Gen. Tracey King, director of expeditionary warfare, OPNAV N95, said the Navy and Marine Corps are trying to develop LAW quickly, akin to the new Constellation-class frigates that are using a proven hull design (Defense Daily, Aug. 28).
King noted he viewed LAW as being a ship that carries excess fuel, makes water, operates under the umbrella of the fleet, and lets Marines live on it like part of the crew unlike current shorter range landing vessels.
In May, an RFI Q&A industry answers document and industry briefings revealed the Navy plans to buy 29-30 vessels at a cost of "several digit millions" each. The service expects a six- to eight-month detail design period for a 24-month production duration. Ultimately, a single winner would be picked, only one variant and a single shipyard (Defense Daily, May 6).