The Navy said Wednesday it is standing up two more Naval Expeditions Agility Office (NavalX) Tech Bridges in Panama City, Fla., and Honolulu, Hawaii.
The Navy said these Tech Bridges will offer direct access for companies and the service to test and evaluate emerging technologies for "undersea and space-going missions."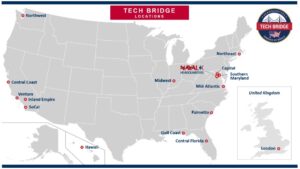 Specifically, the Gulf Coast Tech Bridge in Panama City will have focus areas of coastal sciences and technology, assured maritime access and operational meteorology and oceanography. The Hawaii Tech Bridge will have focus areas of adopting technology advances for command and control, communications, cybersecurity, intelligence, space systems, and resilient infrastructure.
The Gulf Coast Tech Bridge is a partnership formed by Naval Surface Warfare Center Panama City Division, the U.S. Naval Research Lab in Stennis, Miss., and the Naval Meteorology and Oceanography Command.
Director of the Gulf Coast Tech Bridge Holly Gardner said her center "spans a unique, vibrant region across four states."
"Our region is focused on the future, growing coastal science and unmanned vehicle development, hosting industry events and expanding strategic partnerships," she added in a statement.
Separately, the Hawaii Tech Bridge is a collaboration between the Naval Undersea Warfare Center Keyport Detachment Pacific, the Hawaii Technology Development Corporation, and the University of Hawaii's Office of Innovation and Commercialization.
"In our logo, you will see the Hawaiian canoe (wa'a). This symbolizes that everyone has to work together in unity (lokahi) to achieve success. Like our Tech Bridge collaborators, each paddler may have a different role but they are all united by a common goal," Neal Miyake, Business Deputy at Naval Information Warfare Center Pacific and the Director of the Hawaii Tech Bridge, said.
The Navy said in the future it expects the Hawaii bridge to add U.S. Indo-Pacific Command; Commander, United States Pacific Fleet; and Joint Base Pearl Harbor-Hickam.
These latest locations raise the total number of Tech Bridges up to 15, after the Navy announced the 12th total and first international location in London in October (Defense Daily, Oct. 20).
Assistant Secretary of the Navy for Research, Development & Acquisition James Geurts unveiled the first NavalX office in early 2019 as an effort to connect organizations to innovative ideas rather than generate its own ideas (Defense Daily, Feb. 15).
The Tech Bridges are meant to expand that effort, encouraging further collaboration and connections between the Navy and local academic and business parties in various geographic locations. Each operates like a franchise, allowing the region to develop its own model to connect a local ecosystem to better connect ideas to the best partners.
Speaking to reporters during the announcement Wednesday, Geurts said while each Tech Bridge may have focus areas, they are not exclusive.
"While the Tech Bridges may have a focus, or a particular Navy area of expertise, that's not an exclusivity and that's why this NavalX network is so important, because traditionally if you're a company specializing in artificial intelligence but you happen to be next to a Navy nexus of undersea – you wouldn't know where to go to because the people you wanted to talk to in the Navy weren't the folks that were maybe necessarily in your immediate locale."
Geurts said he is trying to operate at network speed so an interested party can walk into one node with an idea and that Tech Bridge can help redirect you to another that is the focal point.
He admitted that these locations are "certainly areas of focus and that's good because you get some synergy there, but it's not exclusive."
The previous 12 Tech Bridge locations are the Washington, D.C., area; Monterey, Calif.; Orlando, Fla.; Norco, Calif.; Norfolk, Va.; Crane, Ind.; Newport, R.I.; Keyport, Wash.; Charleston, S.C.; Patuxent River, Md.; Ventura, Calif.; and London. The NavalX headquarters is in Northern Virginia.