SAN DIEGO — The Navy's top acquisition official said on Thursday he is standing up a new innovation cell that is meant to act as a connector for innovative ideas rather than generate its own ideas.
Assistant Secretary of the Navy for Research, Development & Acquisition (RDA) James Geurts revealed the new office, called NavalX, here at the AFCEA West 2019 conference.

He said NavalX takes its inspiration from the SOFWERX innovation cell created by the U.S. Special Operations Command (SOCOM) and nonprofit Doolittle Institute.
"Expedition is an arduous task where you've got to bring technology and courage and all your MacGyver skills, all that together in one place.What this really is, is not as much of a glitzy innovation store as much as a set of capabilities that anybody can access," Geurts said.
"So if you're a sailor out there and you've got a great idea, and you want to crowdsource something, what do I need from you – I need your idea. I don't need you to be the expert on how to crowdsource or write that contract. So if we can, with this Naval-X, start putting out a set of tools everybody can use efficiently, we'll get our agility up," he said.
Geurts underscored there are "extraordinary" pockets of innovation throughout the Navy and Marine Corps in warfare centers and labs, "but they're not terribly well connected."
He envisioned NavalX as the place you call when you're interested in working on counter-Unmanned Aircraft Systems (UAS) and want to find out who else is working on that mission.
Geurts said he is trying to differentiate NavalX from those other innovation cells.
"I'm trying to resist the urge of everybody has their little innovation cell and you put a couple of people in it and they work really hard but then it becomes overcome by events" so it's primary focus will be connecting other innovation offices.
He noted sometimes innovation cells get too self-focused and concentrate on coming up with brilliant ideas themselves, but NavalX has the opposite idea.
"I don't want them to have any of the brilliant ideas, I want them to be able to take all of the brilliant ideas sitting in his room and be able to push them forward efficiently."
Geurts expects the office to have a "very light load" and told reporters that it will be "starting out internally, a very small cell working for me in RDA, connected well across the infrastructure."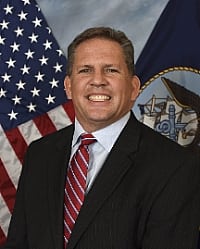 The personnel will be "more of a junior kind of force, so not real senior folks, but folks that really are well-steeped in kind of this thinking. They're doing a lot of work, partnering already with SOFWERX and a lot of these other entities, DIU and everything."
Geurts said the office will be made of a mix of civilian and uniformed personnel.
He also noted industry will be able to use the office as one-stop ship to call and get connected to the right innovation center or office, "without having to break out rolodexes and hunting for the correct office."
According to the office's new
website, NavalX will empower innovators "with the information and relationships you need to immediately apply agility practices in your organization."
For naval leaders it "lowers the barrier for your organization to employ tools and methods that improve your speed and boldness" while for industry it "allows you to easily connect into an ecosystem of potential opportunities that includes investment, experimentation, and technology transfer."
The office's mission statement is to facilitate reinforcing platforms to guide, empower, and connect innovators "with the tools to deliver war-winning agility at a global scale."
The office website specifically names services including crowdsourcing and hosting events, writing playbooks, and providing digital collaboration tools and services.