The Navy announced the founding of the sixth Naval Expeditions Agility Office (NavalX) Tech Bridge in Charleston, S.C.
This new office is named the Palmetto Tech Bridge and is under the coordination of the Naval Information Warfare Center Atlantic.
In September, the Navy announced it was starting five regional Tech Bridges to further collaboration and connections between various Navy and private sector organizations and groups in naval base areas (Defense Daily, Sept. 5).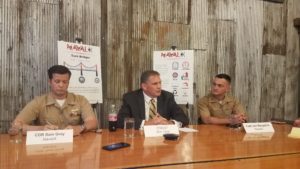 The initial five tech bridges are located in Newport, R.I; Keyport, Wash.; San Diego; Orlando, Fla.; and Crane, Ind..
Assistant Secretary of the Navy for Research, Development & Acquisition (RDA) James Geurts first unveiled the coordinated NavalX office in February. He underscored it would be an innovation cell that would connect various organizations with innovative ideas rather than generating ideas of its own (Defense Daily, Feb. 15).
"Earlier this year, we stood up the first five locations to facilitate rapid adoption of proven agility-enhancing methods across the Department of Navy. And, today, I'm proud that NIWC in collaboration with NavalX has furthered our agility efforts by creating this sixth regional 'Tech Bridge' in South Carolina. This is a positive step to better connect the DoN and the private sector and enable the DoN to achieve its goal of agility at scale," Geurts said in a statement Monday.
"Tech Bridges are designed to capture the culture of innovation in key locations across our nation. This endeavor is a combined effort between the Office of Naval Research and the Navy's Systems Commands to connect, reinforce and sustain acceleration ecosystems to enable key partnerships," he added.
Each Tech Bridge operates like a franchise so each region can develop their own model to connect the "unique innovation ecosystem" of the region. Each site aims to facilitate efforts focused on solving hard problems identified by the Fleet and Navy Department workforce in that area of specialty. Geurts noted the Tech Bridges plan to establish off-base collaborative spaces bringing together parts of the Navy workforce with startups, small businesses, traditional large companies, and academia.
Once the new Charleston Tech Bridge is running, "drawing on the talents from across industry, NIWC Atlantic will focus and facilitate this considerable innovative force on developing dual-use solutions to meet both national defense needs and enhance the region's economic strength with innovative commercial products," Michael Merriken, Palmetto Tech Bridge director, said in a statement.
The Navy said the Palmetto office team will spend the next month identifying regular meeting spaces to host Tech Bridge events for government and industry partners in the southeast region to collaborate on new capabilities.
"We're excited that NIWC Atlantic was chosen to lead this critical innovation endeavor through the Palmetto Tech Bridge. This bridge will play a crucial role in executing the necessary work to not only improve our pivot speed but also provide the at-scale agility required by the Department of Navy," Capt. Wes Sanders, NIWC Atlantic commanding officer, said in a statement.
In September, Naval Undersea Warfare Center Division Newport hosted the first national NavalX Tech Bridge coordination meeting to coordinate activities, discuss the status of programs and contracting mechanisms, and highlight challenges (Defense Daily, Sept. 27).