The Air Force's top acquisition official on Tuesday detailed the service's new plan to rapidly produce advanced aircraft within five years using digital engineering strategies, emphasizing his goal to prioritize design over sustainment for future platforms. 
Will Roper, the Air Force's service acquisition executive, told attendees at a Center for New American Security event the new Digital Century Series initiative will look to improve integration of emerging technologies by buying smaller quantities of new fighter jets, potentially from multiple companies at a time.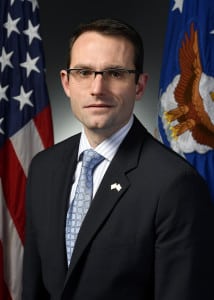 "We shifted from being a service that paid for design to being a service that paid to sustain old things. And I can't think of a worse way to being a cutting edge Air Force if you're not giving industry profit for design," Roper said. "I would like there to be a way for industry to work with us between X-planes and mass production. I would like there to be a business case for being a superior designer that can make things at very low rate."
In early October, the Air Force officially stood up a new program executive office to lead Digital Century Series, which will look to rapidly develop and field new aircraft beginning with the service's sixth-generation fighter platform (Defense Daily, Oct. 3). 
Roper said the program will leverage open system architecture, agile software development and digital engineering to go after platforms that can be built quickly to meet current threats and utilize common parts to bring down sustainment costs, according to Roper.
The Air Force will look to have fighter aircraft programs follow each more closely, rather than waiting decades to begin work on a new platform, with Roper comparing the approach to Apple's [AAPL] model for rolling out new iPhones every few years. 
"[Apple is] focused on superior design for the next platform and they benefit from third party developers. I could imagine doing that if we pushed the refresh rate for airplanes closer together and satellites closer together, that you could eventually open up the design and have true open architecture because there's a business case for our defense companies," Roper said. 
Roper said the original 1950's Century Series effort was possible when the Air Force had 13 companies capable of building a fighter aircraft, which he noted is now down two companies.
"We are at risk in this nation because of how few and far between our advanced aircraft building opportunities are and the random forces that determine who will build them. We are in danger that we could collapse to one [company]. And I do not want to have a national company for fighter [aircraft]. I want to have competition. I want to bring new companies in. We have to try something different," Roper said.
The Air Force will look to place an increased emphasis on commonality and digital engineering practices to provide industry partners with an incentive to focus on design, according to Roper, so the aircraft can be built easily while taking advantage of new sensors, artificial intelligence algorithms and weapon systems. 
"At the macro level, the biggest risk we have is that this has to be a closed loop of systems. We've got to have a business case with industry that rewards design. We've got to make sure we ensure commonality, especially if we've got more than one vendor building airplanes at the same time," Roper said. "We only have so much money we can throw at this, a few billion we can put at this. So we better get this right the first time, because if it doesn't work for industry then it's not going to work for us."