L3Harris [LHX] said Wednesday it has received a $57 million order from the Army to continue delivering its Falcon IV AN/PRC-163 two-channel handheld radios.
This is the company's third low-rate initial production deal for the AN-PRC-163 handheld radios, with deliveries expected to begin in early 2021.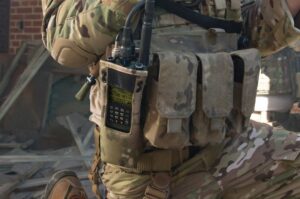 "The AN/PRC-163 is the most capable handheld radio in the market. It provides warfighters with a broad range of secure interoperable communications capabilities today and the ability to host resilient waveforms required to address evolving future requirements," Dana Mehnert, L3Harris' president for communication systems, said in a statement.
L3Harris is currently providing its software-defined AN/PRC-163 handheld radios and AN/PRC-158 manpack radios under the $3.9 billion Leader Radio program, which also includes Collins Aerospace [UTX] and France's Thales, to begin building up its new Integrated Tactical Network (ITN).
"A key component of the ITN, the AN/PRC-163 delivers advanced networking and wideband and narrowband satellite communications in a compact form factor. It can simultaneously communicate over multiple channels and crossband between them, offering up and down echelon connectivity. It is capable of satellite communications, mobile ad-hoc networking (MANET) waveforms and the Army's SINCGARS waveform. It also offers a path to future software-only updates for SATCOM, SATURN and other anti-jam and resilient waveforms," the company wrote.
Jeff Smith, L3Harris' vice president of business development for communications systems, told Defense Daily earlier this year the company is expecting a full-rate production decision for the two-channel Leader radios in 2021 as the Army looks to field large quantities throughout the service to solidify the ITN.