The Navy said it expects to buy 28-30 new Light Amphibious Warships (LAWs) that should cost "several digit millions" and will consist of a single final shipbuilder, according to answers in an industry Q&A as part of a Request For Information (RFI) revealed May 5.
In February, Commandant of the Marine Corps Gen. David Berger said the Department of the Navy's amphibious force needed more variance in its ships.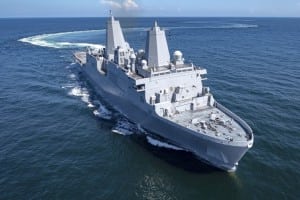 While he said they still need big deck amphibious ships like the America-class amphibious assault ships and the San Antonio-class amphibious transport docks in the middle, "we need a light amphibious force ship, a lot of them that we don't have today," (Defense Daily, Feb. 20).
The Navy's FY 2021 budget request also said the department plans to invest $30 million for research and development on a "next generation medium amphibious ship" to support amphibious ship-to-shore operations.
In February, the Navy released an RFI for the LAW that plans a competition to consider adapting or altering an existing commercial ship design or "build to print from a historic design."
Primary functions of the LAW concept are force maneuver and force closure, which includes operating in small/undeveloped ports and beaches. Secondary functions include force sustainment and reconnaissance.
"LAWs will accelerate delivery of new capabilities to the Naval Force and reduce technical risk and cost by utilizing, and/or adapting commercial vessels/ship design, or build to print from a historic design/existing detailed designs," the RFI said.
The Navy conducted the first industry day March 4 and a second one April 9. According to the Navy briefing for both, it anticipates a six- to eight-month detail design period and 24-month production duration for LAW.
The second Q&A revealed the government has an objective of 28-30 affordable LAWs.
This means "several digit millions not triple digit millions. Again, if industry thinks we're completely off base and are we shopping in the wrong area, please tell us," the document said.
The Navy was unwilling to discuss prototype design budgets but said it envisions seven to 15 prototype phase ships.
The service said once studies are concluded it expects multiple awards for preliminary design, then a downselect for a prototype.
It explained there is "no plan for multiple yards and designs like [Littoral Combat Ships]. It's too hard of a logistics tail."
The Navy elaborated why it is not looking for the LCS style of multiple variants or multiple yards and designs.
"It involves too much logistics and O&S. This drives overall costs initially and we're not trying to go down that path. As we've said before, if studies tell us we are wrong, if it's affordable and fields faster, then we won't ignore it. The data and cost drivers will help us decide. The Government wants to field as rapidly as possible, and we believe that using multiple yards is not the best and most affordable path."
The Navy expects LAW to have an 8,000 square foot cargo area, 10-year service life, 14 knot transit speed, range of 3,500 nautical miles, crew of 40 Navy Sailors and 75 Marines, and be 200 feet long.