Lockheed Martin [LMT] and Raytheon's [RTN] Javelin joint venture has completed production of the first F-model version of the anti-tank missile missile, the companies said Wednesday.
The new F-model Javelin includes a new advanced multipurpose warhead and is designed to defeat future complex armor threats, such as explosive reactive armor.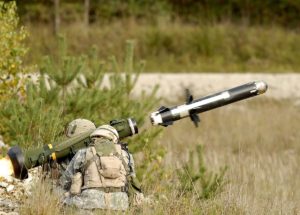 "The F-Model combines multiple features such as blast fragmentation and high-explosive anti-tank into a single warhead," David Pantano, vice president of the Javelin JV, said in a statement. "We're helping prepare our warfighters for any mission by reducing the need for different rounds for different targets."
In January 2019, Lockheed Martin and Raytheon received an initial production contract to deliver 2,100 F-model Javelins following a series of successful qualification tests for the new weapon, including 21 flight tests (Defense Daily, Jan. 30 2019). 
The State Department approved a $100 million deal with Poland in March for 180 Javelin missiles, although it was not disclosed if this will include the F-model variant (Defense Daily, March 4). 
Javelins were first deployed in 1996, and the joint venture has produced 45,000 missiles to date.