Lockheed Martin [LMT] and Raytheon's [RTN] Javelin Joint Venture has received a contract to deliver 2,100 F-model Javelin missiles following a series of successful qualification tests for the new weapon, the companies said Wednesday.
The deal is the first initial production contract for the F-model Javelin, which went through 21 flight tests, and is set to replace the current E-model missiles. A contract value for the deal was not disclosed.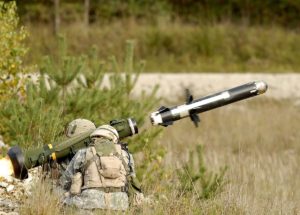 "The Javelin [F-model] missile features an advanced multipurpose warhead (MPWH) as part of the man portable, fire-and-forget Javelin missile system," officials from the joint venture said in a statement. "The MPWH incorporates the latest generation shaped charged technology to defeat present and future advanced armored threats while adding a fragmenting steel warhead case to significantly improve lethality against soft targets and light armored vehicles."
Lockheed Martin and Raytheon said they are currently developing an upgraded Lightweight Command Unit and G-model missile to reduce weight and the system cost of the Javelins.
Javelins were first deployed in 1996, and the joint venture has produced 45,000 missiles to date.