The Senate Appropriations Committee on Tuesday released its $696 billion fiscal year 2021 defense spending bill, setting up a series of debates with the House during a lame-duck session over provisions such as budgeting for more F-35s and only funding one Virginia-class submarine.
The bill, which is part of a $1.4 trillion spending package, arrives five months after the House passed its spending legislation in July and as the government is operating under a Continuing Resolution through Dec. 11.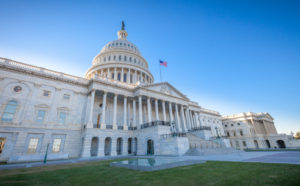 In its bill, the Senate is calling for funding 96 F-35s, which is five more than in the House's bill and 17 more than originally requested in the administration's request.
The additional $1.7 billion for F-35 funding would include 12 F-35As for the Air Force and five F-35Cs for the Marine Corps and Navy.
For shipbuilding, Senate appropriators are recommending $21.4 billion, about $1.5 billion above the budget request but $1 billion less than in the House's bill, to cover one Virginia-class submarine, one Columbia-class submarine, two DDG-51 Arleigh Burke destroyers, a Constellation-class frigate, one LPD-17, 1 Expeditionary Fast Transport and two TATS fleet tugs.
While the bill matches the administration's call to fund one Virginia-class submarine, the House has pushed for additional dollars to fund advanced procurement of a second sub.
Lawmakers will also have to settle key differences with the House over provisions that have drawn veto threats from the White House, including House lawmakers approving $1 million to assist in renaming bases named after Confederate leaders, reducing the Pentagon's transfer authority and barring the use of funds for border wall construction.
The Senate is also calling for a nearly $100 million cut to the Air Force's Advanced Battle Management System from the original budget request, citing concerns that the program's "requirements and acquisition strategy remain unclear."
Senate appropriators are also calling for $10.2 billion for the Missile Defense Agency, $1.1 billion above the budget request, to include $319.6 million more for an eighth THAAD battery.
The bill also recommends an additional $120 million for the Army's Chinook CH-47 Block II program, calling for $280 million in funds and citing a concern "that a delay in production of Block II aircraft will cause uncertainty in the domestic supply chain, and delay or reduce the promised benefits of the modernization."
Lawmakers also fully funded the Air Force's B-21 bomber program and included $974 million for the Next Generation Air Dominance Program and $444.4 million for the Long Range Standoff Weapon.