The House Appropriations Committee voted along party lines Tuesday to approve its $694.6 billion fiscal year 2021 defense spending bill, including striking down an amendment that would allow the Pentagon to divert additional funds towards border wall construction.
Debate during Wednesday's mark-up hearing eschewed discussions over specific program adjustments, while previewing partisan divides over issues such as the border wall and blocking funds for military action against Iran that have faced the threat of a potential presidential veto.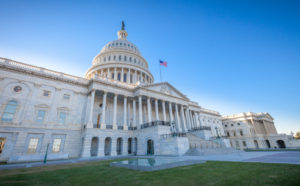 "While this is a very strong bill, there are numerous provisions, like the prohibition on funding for the Southwest border wall construction and limitations on DoD's general and special transfer authorities, that will draw a veto threat from the administration. It is important that this bill becomes law as soon as possible," Rep. Ken Calvert (R-Calif.), ranking member House Appropriations Subcommittee on Defense, said during his opening remarks. "While I cannot support it in its current form, I want to work with you so we can have a bill that can be signed when it gets to the president's desk because I know there are a lot of things that are going to happen between now and then."
HAC's bill includes $758 million to assist industrial base suppliers affected by the pandemic and details plans to cover 91 F-35s, 12 more than was included in the president's budget request and providing $22.3 billion for Navy shipbuilding, $2.4 billion above the request (Defense Daily, July 7).
The panel also proposes restoring $163 million to the Army's procurement plan for CH-47F Block II Chinooks as well as proposing a potential $235.6 million cut to the service's IVAS future augmented reality headset program (Defense Daily, July 13).
Lawmakers on Wednesday voted against an amendment from Rep. Andy Harris (R-Md.) that would have removed a provision preventing the administration from redirecting defense funds toward border wall construction, reiterating the Democratic majority's push back against the Pentagon's recent use of reprogramming authorities.
The committee report accompanying HAC's bill condemns DoD's "unacceptable and unsustainable" transparency with Congress over the last several funding cycles, calling the move to shift nearly $10 billion over the last two years for the border wall a "mismatch between [DoD's] stated priorities and its fiscal actions" (Defense Daily, July 10).
"The bill again contains several provisions to rein in the department's now habitual redirection of funding in contravention of congressional intent. I am not going to rehash the arguments as to why I believe the department's actions are unlawful, however, I do want to express my upset with how these actions have irreparably damaged the department's credibility with the committee," Rep. Pete Visclosky (D-Ind.), the HAC-D chair, said Tuesday.
HAC-D's bill recommends more than halving the $4 billion in general reprogramming authority and $2 billion in overseas contingency operations special authority, advising a maximum reprogramming amount of $1.9 billion as opposed to the White House's request for $9.5 billion (Defense Daily, July 7).
An amendment from Rep. Barbara Lee (D-Calif.), approved along party lines, blocks the use of funds for military action against Iran without congressional approval.
"We know that the Trump administration has taken very clear steps to escalate tensions with Iran in an attempt to build up an unconstitutional and unauthorized war," Lee said. "We've been down this same road on Iraq, and we cannot afford to make the same mistake again."