The Navy issued a sources sought notice on July 10 to find businesses that can potentially design, manufacture, assemble, test and deliver the upgraded COBRA Block II mine detection system.
The COBRA program aims to integrate a sensor onto the Northrop Grumman [NOC] MQ-8 Fire Scout unmanned air system (UAS) for the Mine Countermeasures (MCM) Mission Package for Littoral Combat Ships and other potential vessels of opportunity.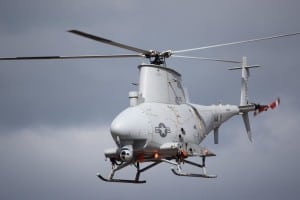 COBRA is used to conduct unmanned aerial tactical reconnaissance in littoral spaces to detect and localize mines, minefields, mine-like objects (MLOs) and obstacles in the surf and beach zones lying on the surface or near surface of water. The Navy's notice explained COBRA is "an evolutionary acquisition program" that plans to introduce new capabilities through subsequent blocks.
COBRA Block I is currently fielded to Helicopter Sea Combat Squadrons conducting Mine Countermeasures operations and provides daytime mine and obstacle detection from an MQ-9B Fire Scout. It is built by Arête Associates.
Block II plans to increase the capabilities by enhancing surface and near surface daytime and nighttime individual moored and drifting MLOs, minefields, minelines and obstacle detection and imagery collection from the Surf Zone through deep water in a single pass at a high coverage rate.
The notice posted at beta.sam.gov explained it defines the Block II operation zones as the high water mark inland to the beach exit zone, the surf zone near the shore where water depth ranges from zero to 10 feet, very shallow water from 10 to 40 feet deep, shallow water from 40 to 200 feet deep, and some capabilities in deep water from 200 feet or greater.
The Block II is planned to be used on an MQ-8C Fire Scout to allow operators stay at a safe distance from mines, obstacles, and enemy fire.
The upgraded system also plans to reduce the current mission planning timeline and post mission analysis (PMA) process to near real time when possible. Currently, imagery collected by the system is processed at a PMA station where it is then transferred to the Mine Warfare Environmental Decision Aids Library MINEnet Tactical application for MCM analysis and later distributed through legacy command and control applications up to Joint Command and Control Capabilities.
The notice underscored this is for market research purposed only and the Navy is specifically trying to determine whether there are two or more capable businesses or small businesses that can build, assemble, and deliver the COBRA Block II.
It added the notice aims to help the government determine the technical capability and qualification of companies in meeting the need for the COBRA Block II.
The announcement also "requests industry comments on how the Government can satisfy its needs, alternative approaches, technology availability and risk, the identification of cost drivers, and suggestions on ways to enhance or sustain competition."
Responses are due by July 29.