The U.S. delivered the first Bell [TXT] – Boeing [BA] V-22 Osprey to Japan at Camp Kisarazu on July 10, according to news releases from the companies that jointly build the aircraft.
With this delivery, the Japan Ground Self Defense Force (JGSDF) becomes the first V-22 tiltrotor operator outside the U.S. Japan plans to buy at least 17 Ospreys.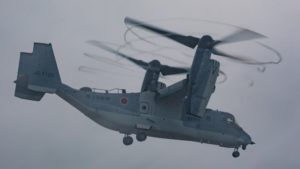 The delivery entailed ferrying the V-22 first from Marine Corps Air Station Iwakuni to Camp Kisarazu
"Congratulations to Japan on becoming the first international operator of the Osprey. The delivery of the Japanese V-22 represents a milestone for revolutionary aircraft capabilities for the Government of Japan and is a testament to our enduring friendship," Kurt Fuller, Bell Boeing program director, said in a statement.
"The Osprey will provide Japan a tremendous advantage, unlike ever before, to respond to a broad range of challenges throughout the Asia Pacific region," he added.
Bell Boeing Deputy Program Director and Boeing Vice President of Tiltrotor Programs Shane Openshaw echoed the sentiment.
He said this is "an important milestone and represents our strong partnership with the Government of Japan. The Osprey's ability to carry out the toughest missions in the most challenging operating environments will reshape what is possible for the Japan Ground Self Defense Force."
The companies underscored Japan's unique V-22 variant has a Japanese-specific communication system.
JGSDF personnel have been training with U.S. Marines since May to gain aircraft proficiency before this delivery.
Marine Corps Col. Matthew Kelly, program manager for the V-22 Joint Program Office (PMA-275), welcomed this milestone.
"This is an exciting moment in our partnership with the JGSDF; we have had the pleasure of working with them state-side to produce, develop, train and maintain their initial fleet of aircraft. This arrival marks a key step in standing up its V-22 fleet, and more importantly, the continued collaboration between our nations," Kelly said in a statement.
This comes a week after the State Department approved a potential $2 billion Foreign Military Sale of eight Marine Corps-type MV-22 Block C Ospreys to Indonesia, which would make it the third country to field the aircraft (Defense Daily, July 6).