The State Department approved a possible Foreign Military Sales (FMS) of eight Marine Corps-type MV-22 Block C Osprey aircraft to Indonesia for about $2 billion.
The Defense Security Cooperation Agency (DSCA) notified Congress of the potential sale on July 6.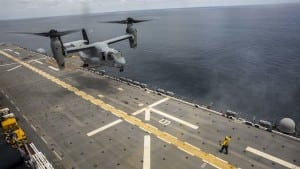 The sale would cover the requested eight Ospreys as well as 24 AE 1107C Rolls– Royce engines; 20 AN/AAQ-27 Forward Looking InfraRed Radars; 20 AN/AAR-47 Missile Warning Systems; 20 AN/APR-39 Radar Warning Receivers; 20 AN/ALE-47 Countermeasure Dispenser Systems; 20 AN/APX-117 Identification Friend or Foe Systems (IFF); 20 AN/APN-194 Radar Altimeters; 20 AN/ARN-147 VHF Omni­Directional Range (VOR) Instrument Landing System (ILS) Beacon Navigation Systems; and 40 ARC-210 629F-23 Multi-Band Radios (Non-COMSEC).
Other equipment covered by the sale includes 20 AN/ASN-163 Miniature Airborne GPS Receivers; 20 AN/ARN-153 Tactical Airborne Navigation Systems, 20 M-240-D 7.64mm Machine Guns; 20 GAU-21 Machine Guns; and other assorted planning, technical, spare and repair components and support.
The main contractors will be the joint V-22 producers Bell Textron [TXT] and Boeing [BA].
DSCA said Indonesia will use the aircraft to enhance the country's humanitarian and disaster relief capabilities while also supporting amphibious operations.
The agency noted it is vital to U.S. national interests to assist Indonesia in developing and maintaining a strong and effective self-defense capability, with the sale helping improve its security
"This sale will promote burden sharing and interoperability with U.S. Forces," DSCA added.
Implementing the sale would require an undisclosed number of U.S. government and contractor personnel to travel to Indonesia on a temporary basis to provide program technical support and program management oversight.
Last month, the Bell-Boeing team delivered the 400th Osprey for the U.S. Air Force Special Operations Command (Defense Daily, June 12).
In April, Boeing paused then resumed operations at its Philadelphia area aircraft manufacturing facilities for several weeks after beginning new measures to protect employees and adjust to the COVID-19 pandemic. The facility help manufacture V-22s (Defense Daily, April 20).